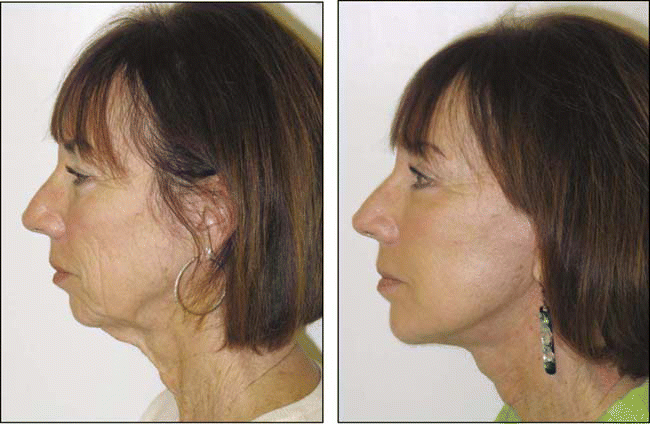 click for large version
Figure. Before (left) and after (right) pictures of a patient who had an Extended Facial Lipo-Lift performed by Dr. Morganroth.
The incision differs from the S-Lift by extending the incision in to post-auricular region to hide the dog-ear behind the ear and to provide for greater plication of the superficial musculoaponeurotic system (SMAS) and skin excision. Undermining extends 5 to 6 cm anterior to the ear and 2.25 cm posterior to the ear.
The difference between the Facial Lipo-Lift and a traditional facelift is that the procedure is performed with local anesthesia, there is only a preauricular flap with limited undermining and plication, and the neck is managed by liposuction without scissor undermining or plication of the platysma muscle, Dr. Morganroth explained.
Extended Facial Lipo-Lift
The second type is called the Extended Facial Lipo-Lift, and is described as a traditional Webster-style facelift performed under local anesthesia combined with liposuction of the neck. In contrast with the non-extended version of the Lipo-Lift, the extended procedure includes an incision that extends 4 to 6 cm into the occipital scalp to form a post-auricular flap that allows for plication of the platysmal muscle and excision of excess neck skin. | ← Previous | | | Next → | Single Page