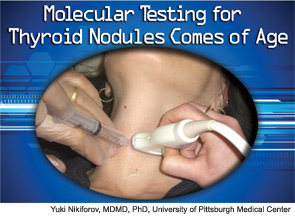 A patient with a
thyroid
nodule undergoing ultrasound-guided fine need aspiration at the University of Pittsburgh Medical Center.
For years, thyroid nodules have been evaluated using fine needle aspiration (FNA). For most patients, this approach works reasonably well: In about 70 percent of cases, the cytology results clearly point to either the presence (10 percent) or absence (60 percent) of a malignancy, thus offering clear guidance on any further interventions (Curr Opin Oncol. 2012;24(1):35-41).
But what about the roughly 30 percent of thyroid nodules characterized as having "indeterminate" cytology? These nodules, which often contain a follicular growth pattern that has proven resistant to definitive cytological evaluation, are frequently subjected to partial surgical removal and, in more than half of those cases, the pathology results come back benign (Diagn Cytopathol. 2008(6);36:425-437).
"Basically, those patients with benign disease just underwent an unnecessary surgery," said Yuri Nikiforov, MD, PhD, director of the division of molecular anatomic pathology and of the Molecular Anatomic Pathology Lab at the University of Pittsburgh School of Medicine and the University of Pittsburgh Medical Center (UPMC). "And that's not the only problem: Patients whose frozen section results are indeterminate but the final results indicate cancer then have to come back for a second surgery to remove the entire thyroid." Such repeat surgeries result in additional morbidity and higher health care costs, he noted (Ann Surg Oncol. 2004;11(1):94-98; Otolaryngol Head Neck Surg. 2004;131(5):596-600).
Since 2007, Dr. Nikiforov and his colleagues at UPMC have been using a method that significantly reduces this "gray zone" of indeterminate cytology. The method involves testing FNA thyroid samples for a panel of genetic mutations that have been shown in previous studies to correlate strongly with the presence or absence of thyroid cancer (Endocr Relat Cancer. 2007;14(4):1089-1097). If the test results point to benign disease, those initial diagnostic surgeries are avoided, he noted. In contrast, if the results help establish a diagnosis of malignancy, a single, up-front total thyroidectomy is performed, eliminating the two-stage surgical approach.
"Empirically, we knew this strategy was working; we were avoiding many unneeded surgeries," Dr. Nikiforov said. However, there was a lack of hard data to confirm its efficacy. That began to change three years ago, when Dr. Nikiforov and colleagues from UPMC and two other academic medical centers published the first large prospective study of molecular testing of FNA samples for mutations (J Clin Endocrinol Metab. 2009;94(6):2092-2098). The study showed that in a subset of 52 FNA samples with indeterminate cytology, all 15 nodules that were found to be positive for a mutation were malignant at surgery, for a positive predictive value (PPV) of 100 percent. Among 333 mutation-negative nodules from patients who were followed for several years post-surgery, nine were found to be malignant, for a negative predictive value (NPV) of 97 percent.