Patients who undergo a transnasal esophagoscopy using narrow-band imaging are more likely to have dysplasia diagnosed with a biopsy than those who have the exam using only white light, researchers have reported.
Narrow-band imaging is a great supplement for the screening exam and it may improve the target selection for biopsy to allow for high-yield, specific-targeted biopsy to get pathologic diagnosis of Barrett's esophagus, said Timothy O'Brien, MD, an otolaryngology resident at the University of Connecticut School of Medicine in Farmington.
In his oral presentation at the 88th annual meeting of the American Broncho-Esophagological Association, conducted as part of the Combined Otolaryngology Spring Meeting, Dr. O'Brien noted a long-time frustration for otolaryngologists: Diagnosing Barrett's esophagus with a biopsy can be difficult because of poor image clarity during the exams. Studies have shown that the standard upper endoscopy for diagnosing Barrett's esophagus has a positive predictive value of only 34%, Dr. O'Brien said.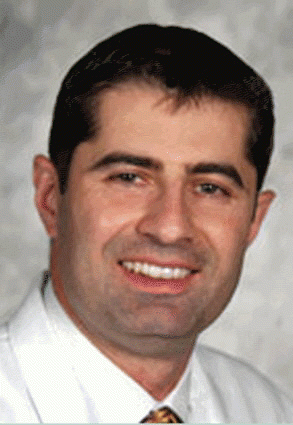 Our work implies that with proper tools-for example, narrow-band imaging-sensitivity of transnasal esophagoscopy performed in the ENT office may be increased to potentially detect not just Barrett's, but also dysplastic changes arising in the background of Barrett's.
-Kourosh Parham, MD, PhD
This is not a new problem, he said. They have seen incongruence for many years. Why is this? Is this because there's a hit-or-miss nature of the biopsies?
The intestinal metaplasia or dysplasia in the segment with Barrett's esophagus may be focal or patchy and may not be clearly seen during the exam, he said, making it difficult to get adequate biopsies.
Why Is Narrow-Band Imaging Better?
Enter narrow-band imaging. The technology takes advantage of the penetration and scattering qualities of certain wavelengths of light to produce clearer pictures of the affected areas.
It's very sharp and crisp and clear, Dr. O'Brien said. In his study, under the supervision of Kourosh Parham, MD, PhD, Dr. O'Brien conducted chart reviews of 111 patients with laryngopharyngeal reflux. They had all been examined by Dr. Parham from 2005 to 2007.
The pictures he displayed were telling. Images from the exam using only white light showed the affected area with not much contrast to the area around it.
In the narrow-band imaging pictures, however, the reddened affected area is surrounded by a white area, giving a contrast vital in the exam.
On 58 of the patients in the study, the transnasal esophagoscopy was conducted using only white light. On the other 53, the exam was conducted using narrow-band imaging.