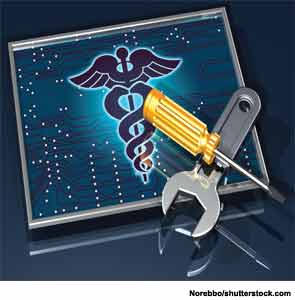 Every year, applicants to otolaryngology-head and neck surgery residency programs are simply outstanding, said Mark A. Zacharek, MD, an associate professor and associate program director at the University of Michigan Health Systems Department of Otorhinolaryngology, the director of the Michigan Sinus Center and the current president of the Otolaryngology Program Director's Organization (OPDO). "There is a continuous flow of tremendous candidates," he added.
Dr. Zacharek has reviewed candidates for Michigan's program for the past two years and was program director at Henry Ford Hospital in Detroit for four years. "They have 4.0 grade point averages in high school, they have scored in the 99th percentile of their board exams and by the way, they're also Eagle Scouts and Olympic athletes," he said. "These people are unbelievable." Dr. Zacharek added that while not every candidate is a valedictorian or has high test scores, many applicants are in the top 10 to 20 percent of their medical school classes.
They are also competing for highly sought-after otolaryngology residency spots. For the program directors, who may sort through hundreds of applications each year for a handful of openings, it's a complex process that carries an enormous responsibility—ensuring that its residents and, ultimately, its otolaryngologists, can do the job well. To that end, new initiatives such as a standardized residency recommendation letter form, a new residency program review process and enhanced professional standards instituted by the Accreditation Council for Graduate Medical Education (ACGME) aim to streamline the admissions process and help uphold physician excellence.
A Standardized Recommendation Form
Candidates applying to otolaryngology residency programs usually submit three or four letters of recommendation as part of their application. "A typical otolaryngology program with 250 applicants will receive nearly 1,000 letters to review," said Anna Messner, MD, past president of OPDO, a professor of otolaryngology (head and neck surgery) and pediatrics and the otolaryngology residency program director at Stanford University School of Medicine. She has reviewed applicants to Stanford's program for the past 11 years. "Each letter takes at least 60 to 90 seconds to read, and it takes a tremendous amount of time," she said. "The reality is that at many programs, not all letters are read."

"Medical education is going through a revolution right now to ensure patient safety and quality."

—Mark A. Zacharek, MD
Even when they are read, the letters don't always give a full picture of the candidate, Dr. Messner said. "The traditional letter of recommendation is sometimes helpful, but often it is not. They oftentimes duplicate what is in the rest of the application. Some letters will talk about a candidate's interest in research, while others will not. We just don't get consistent information," she said.