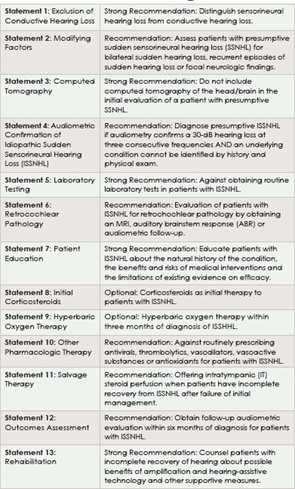 click for large version
Evidence-Based Statements on Sudden Hearing Loss.
Statements supported by strong evidence are given a "strong recommendation," and statements supported by evidence with sufficient strength carry a "recommendation."
Change Clinical Practice or Raise Necessary Questions?
Underlying this discussion of specific statements reported in the guidelines is the overall question of what defines a guideline and what constitutes its main purpose.
"Our goal is to change clinical practice in that we want to encourage the provider to know the literature better and engage in a good dialogue with the patient, "said Dr. Chandrasekhar. She said, for example, that it's important to make patients aware of some of the issues surrounding oral steroids and hyperbaric oxygen, because patient preference plays a big role in both treatment options.
In addition to affecting clinical practice, she said she believes the guidelines will lead to a secondary goal, which is to drive clinical research.
"We used to think that oral steroids was the gold standard for first-line therapy, and we thought it would be unethical to run a trial that included a non-steroidal treatment arm," she said. "Now, the evidence suggests that it is probably quite in the boundaries of ethics to do at least a short trial including a non-steroidal treatment arm."
Dr. Li said he supports the need for a unified approach to diagnosis and treatment and agrees overall with the guidelines, with several caveats. Among these is the use of some caution in adhering to the recommendation to minimize tests. Although he agrees that offering MRI scans seems wasteful, given the fact that over 90 percent of scans are negative, he generally offers it and discusses it as an option because of medical-legal issues. "Unfortunately, what can come with guidelines are new gold standards that can create medico-legal issues for people who either knowingly or unknowingly fail to follow these guidelines," he said.
Dr. Friedland said the current guidelines represent a good review of the literature and can be seen as a good guide for clinical decision making, but he doesn't think they should be defined as a guideline. "A guideline to me implies a standard of care, what clinicians should and are expected to do if faced with a patient. It puts a physician in a position of justification if they deviate from the guidelines," he said. "The problem I have with this guideline is that a majority of the evidence used to support treatment recommendations for [sudden hearing loss] is not useful or valid, and to formulate a guideline based on that is dangerous."