The neck can be lifted by injecting filler along jaw lines, restoring a youthful look Other fillers are available. Evolence Classic™ is a porcine third-generation collagen that Dr. Carruthers called a wonderful product. It is cross-linked with sugar, which makes it difficult to break down. It also is less likely to cause bruising than hyaluronic acid products. Up to 50% of patients who are treated with hyaluronic acid products have bruising, she said.
Volumizing fillers for cheeks and chin include Juvederm Ultra Plus, Perlane, and Radiesse®. Radiesse is a longer-lasting filler, which is not permanent, but achieves good results for volumizing cheeks and the chin (not for lips). For the lips, Dr. Carruthers prefers Restylane, Juvederm Ultra, and Evolence™ Breeze®. Evolence Breeze is less viscous than Evolence Classic and lasts much longer, she said. Evolence products received FDA approval June 30 for use in the United States.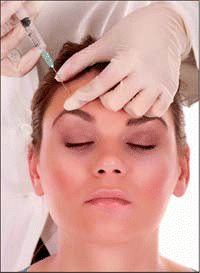 click for large version
Figure. Botox can relax facial muscles, preventing creases from becoming deeper.
The only absolute contraindication to injectable fillers is allergy to any of the components. Patients who are not sure what kind of end result they want are also not good candidates for injectable fillers. However, with hyaluronic injectable fillers, people can change their minds and reverse the procedure with hyaluronidase, an eraser of sorts. If the patient doesn't like the result, he or she can come back and get rid of it. You could think of the first procedure as a rehearsal, Dr. Carruthers said.
Botox treatments are given every three to six months. Fillers are given every six to 12 months, depending on the type of filler used and the area injected. The cost of Botox and fillers varies according to the type used and the areas treated.
Safety of Botox
Despite recent warnings by Public Citizen about therapeutic uses of Botox in children with cerebral palsy, Botox is incredibly safe for cosmetic procedures, Dr. Carruthers said. Cosmetic doses are at least 10 times lower than the doses used for cerebral palsy. Only one death has been reported in a patient treated with cosmetic Botox, and that death was due to methicillin-resistant Staphylococcus aureus (MRSA) pneumonia-unrelated to Botox.
Dr. Larrabee said that Botox has a minimal risk of allergy-and most injectable fillers rarely cause allergies, because they are similar to natural substances produced by the body.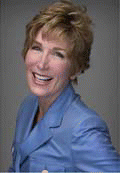 Typically, we use Botox and injectable fillers together. Botox treats the dynamic action of the muscles and relaxes them, preventing creases from getting deeper. If the crease is severe, we use Botox plus fillers.
-Jenifer Henderson, MD
Dermabrasion
Dermabrasion has largely fallen out of favor at Dr. Carruthers' clinic. It is no longer legal to give the Freon gas to stiffen the skin for dermabrasion, she said. The field is shifting toward lasers, which are safer and do not cause blood splatter, which is important in this age of contagious blood-borne diseases such as AIDS and hepatitis.