SAN DIEGO—"Accentuate the positive" was one of the pointers heard by the almost 200 otolaryngologists and surgeons who attended the Triological Society's April 28 panel discussion on "Nuances in Rhinoplasty" at the Combined Otolaryngology Spring Meeting. Stephen S. Park, MD, of the University of Virginia, moderated the discussion that offered tips "that might impact how you do your next rhinoplasty."
Offering pearls and pitfalls were panelists Roger Crumley, MD, MBA, of the University of California, Irvine; Jonathan Sykes, MD, from the University of California, Davis; and Patrick Byrne, MD, of Johns Hopkins.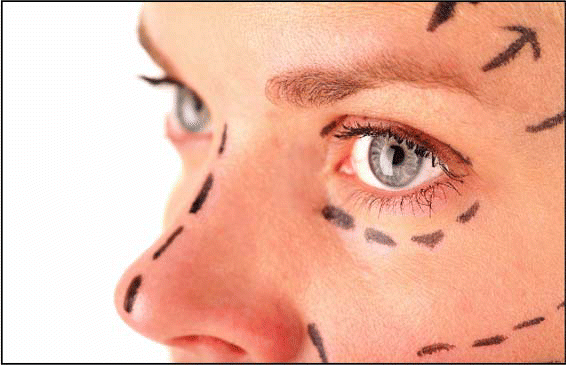 click for large version
Figure. It is important to discuss symmetry and proportion with the patient before performing a rhinoplasty.
Starting Out
"Doing conservative surgery on properly selected patients will yield high patient satisfaction, which will in turn yield referrals," Dr. Crumley told the audience members. "And it is a necessity during your first two years in practice."
He said surgeons should be very careful in selecting cases among the first 50 patients and "do the less complicated ones that are going to look good out on the street. You'll get a reputation."
Emphasizing the importance of preoperative counseling, Dr. Crumley said to stress the negative after the patient decides to go ahead with the surgery. "Tell patients that it will be worse than expected and they will regret doing surgery. It will hurt a little bit, there will be swelling, and there's a one in six chance for revision."
Then, post-surgery, "stress the positive," he continued. In particular, make sure the office staff tells them they look great and most people "look much worse this soon after surgery."
At the same time, he said to be honest about imperfect results, but not to point out minor imperfections that the patient hasn't complained about. "Let your patient tell you what problems there are," he said.
Offering a tip on eyelid ecchymosis, he gave credit to Allan Sherman, MD, from UC San Francisco, who used two eye pads, folded once, per side. The suggestion was to:
Compress medial aspect, infraorbital rim.
Wrap with Kerlix, send patient home for removal 4 to 6 hours later.
Recognize that the downside is that the patient is essentially blindfolded.
Provide intraoperative Decadron 10 mg IV.
In the latter part of the procedure, have an assistant apply immediate external pressure to osteotomy sites.
Commenting briefly on open (external) versus closed (endonasal) SRP, Dr. Crumley said to learn both, but use open early on. He recommended doing 80% of the first 50 with the open procedure and with all cases after the first 50, doing 80% as closed SRP.