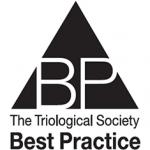 TRIO Best Practice articles are brief, structured reviews designed to provide the busy clinician with a handy outline and reference for day-to-day clinical decision making. The ENTtoday summaries below include the Background and Best Practice sections of the original article. To view the complete Laryngoscope articles free of charge, visit Laryngoscope.com.
Background
Tympanostomy tube placement is the most common surgical procedure in children. It is performed on about 1 million children and 1 million adults in the United States annually. In the past decades, tympanostomy tubes have been shown to reduce the incidence of otitis media–related complications. Although it is a well-tolerated procedure with a low risk of complications, chronic perforation after tube extrusion has an incidence of 2% with short-term tubes and 16% for long-term tubes. Thus, there is an expected annual incidence that is conservatively >40,000 perforations in children and adults in the United States alone. Most perforations are readily repaired, but anteriorly located perforations may be more challenging to surgically close than posterior holes.
Originally, tubes were often placed using spinal needles for the myringotomy and involved working through an otoscope. The anterior-inferior quadrant was frequently recommended to stay maximally far from the posterior-superior quadrant under which the ossicles are located.
Pages: 1 | 2 | Single Page