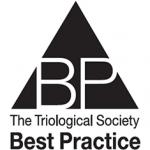 TRIO Best Practice articles are brief, structured reviews designed to provide the busy clinician with a handy outline and reference for day-to-day clinical decision making. The ENTtoday summaries below include the Background and Best Practice sections of the original article. To view the complete Laryngoscope articles free of charge, visit Laryngoscope.
Background
Placement of tympanostomy tubes is one of the most common ambulatory procedures performed in the pediatric population. Tympanostomy tube placement has been shown to significantly improve speech and hearing, as well as reduce the rates of effusion and recurrent acute otitis media (AOM). The main indications of tympanostomy tube are recurrent AOM with middle ear effusion, chronic otitis media with effusion (OME), and Eustachian tube dysfunction. The majority of tympanostomy tubes self-extrude within six to 18 months due to the natural epithelial migration of tympanic membrane (TM); tubes that fail to spontaneously extrude for more than two years are considered retained and may require manual removal in office or in the operating theatre under general anesthesia.
Currently, there are no guidelines for the management of retained tubes in asymptomatic patients. Should they be removed? If so, when? Hence, the purpose of this Triological Best Practice is to examine the current best evidence to determine when a retained tympanostomy tube should be removed in children.
Best Practice
Management of retained ventilation tube has to balance the risks of a recurrent OME requiring repeat tube placement against complications associated with prolonged tube retention (such as TM perforation, chronic suppurative otitis media, cholesteatoma, and displacement of the tube into the middle ear). Based on current literature, asymptomatic retained tubes in children under the ages of 7 to 8 years may remain in place to avoid recurrent OME until such times that complications occur, when the intubation period exceeds 18 months, or when the patient reaches 7 to 8 years of age; in children over the age of 7 to 8 years, removal of an asymptomatic retained tympanostomy tube may be considered after 18 months to reduce the risks of complication associated with a retained tympanostomy tube. Further prospective studies are needed to better define the management of retained ventilation tubes.