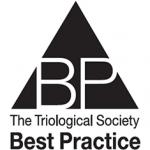 TRIO Best Practice articles are brief, structured reviews designed to provide the busy clinician with a handy outline and reference for day-to-day clinical decision making. The ENTtoday summaries below include the Background and Best Practice sections of the original article. To view the complete Laryngoscope articles free of charge, visit Laryngoscope.com.
Background
Head and neck cancer patients are often malnourished as a result of dysphagia that may occur at the time of their initial presentation or that may develop subsequently. Nutritional support via gastrostomy tube decreases the morbidity associated with long-term nasogastric (NG) tube. Approximately 5% of the 200,000 percutaneous endoscopic gastrostomy (PEG) tubes placed annually in the United States are targeted to head and neck cancer patients. PEG placement is associated with the risk of tumor implantation at the PEG site. Although this occurrence is rare (estimated incidence of 0.5%–3% per year), it is associated with a poor prognosis.
Recent publications propose that the risk of PEG-site metastasis may depend on the technique used for placement.
Best Practice
The push technique for PEG placement is associated with a lower incidence of PEG-site metastases and an overall lower complication rate when compared to the pull technique. Open or laparoscopic gastrostomy tubes are reserved for select patients in whom an NG or endoscope cannot be safely navigated around the tumor due to the increase in morbidity and mortality. Patients with a PEG should be monitored for evidence of PEG-site metastasis, and appropriate workup should be performed immediately to allow for timely diagnosis and treatment. (Laryngoscope. 2015;125:2016-2017).