Results for a consumer who takes the test with background noise could show hearing loss where there is none, causing the person to buy a hearing aid that isn't needed.
In addition, headphone quality is not standardized, Dr. Pyle noted. A person with low-quality or malfunctioning headphones could get test results indicating hearing loss that doesn't exist.
The American Academy of Otolaryngology-Head and Neck Surgery (AAO-HNS) recommends that if patients suspect they have hearing loss, they should visit a physician who can refer them to an otolaryngologist. After a medical exam, the otolaryngologist then helps patients obtain an assessment from an audiologist. "The AAO-HNS strongly believes a physician-led hearing health care team with coordination of services is the best approach for providing the highest quality to patients," the Academy said in an Oct. 13, 2011 written statement.
The physician-led approach was backed as the preferable model by Consumer Reports in a July 2009 article, the academy noted.
Hi HealthInnovations' online test directs people to see a physician if their hearing loss is only on one side or occurred suddenly. But that recommendation is not enough, otolaryngologists said.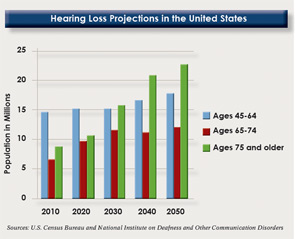 click for large version
Sources: U.S. Census Bureau and National Institute on Deafness and Other Communication Disorders
"There will be missed pathology that could potentially be life-threatening in the case of a vestibular schwannoma or skull-based tumor, and easily fixable problems that could be missed," Dr. Pyle said. "A lot of these patients might have correctible problems that would be covered by insurance."
Also, there is no guarantee that patients would visit a doctor if their online test results warranted it. Elderly patients, in particular, could think the process is streamlined and smart without realizing that a correctible or medically risky condition could be the cause of their hearing loss, Dr. Pyle said.
The U.S. Food and Drug Administration prohibits hearing aid sales unless the buyer has first received a physician's evaluation, but consumers can waive that step if they're older than 18.
Otolaryngologists expressed concern that under the direct-to-consumer model, people risk buying poorly fitting hearing aids and won't get needed follow-up care. In its statement, the AAO-HNS noted that "mail-order hearing aids typically cannot be custom fit either in terms of physical fit or to compensate for the patient's individual loss."
Substantial numbers of patients need follow-up from an audiologist to make sure the devices fit properly and the electronic settings are right, Dr. Pyle said. He questioned how these needs could be met at a distance.