In practice, Dr. Terris estimates that about 70% of patients who are eligible for ambulatory surgery do go home shortly after surgery. Most, but not all, of these patients have undergone minimally invasive surgery, either endoscopic (3/4″ incision) or minimal access (1-1½″ incision). Even some patients with open surgery are discharged the same day, as long as they are fit, healthy, and do not need a drain.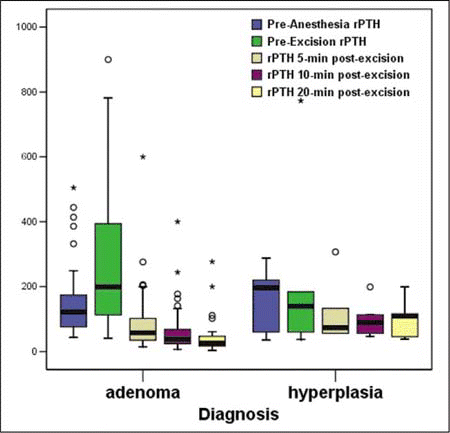 click for large version
Figure. In a single adenoma, the intraoperative PTH level shows some increase from pre-anesthesia to pre-excision. This is the result of the manipulation. No such increase is noted with hyperplasia. More important, in a single adenoma the levels drop at 5, 10, and 20 minutes post-adenoma excision. In hyperplasia, although the PTH level initially drops at 5 minutes, it goes up again at 10 and 20 minutes following excision of the largest gland.
Minimally Invasive Parathyroidectomy
At the George Washington University Medical Center, otolaryngologist Nader Sadeghi, MD, and colleagues compared minimally invasive parathyroidectomy with conventional open surgical access. These investigators reported that minimally invasive parathyroidectomy, when used for selected patients, is an effective treatment of primary hyperparathyroidism, with distinct advantages for both the patient and surgeon.
Previously, parathyroidectomy required exploration of all four parathyroid glands to identify the abnormal gland and remove it. At least one normal-looking gland had to be biopsied to be sure the patient had only single-gland adenoma, explained Dr. Sadeghi, who is Director of Head and Neck Surgery at GWU. We know that out of all patients with primary hyperparathyroidism, about 85 to 90 percent have single-gland adenoma and only 10 to 15 percent have four-gland hyperplasia as the primary diagnosis. So, for that 85 percent, if you can localize the single abnormal gland, the patient can have only a directed, minimally invasive parathyroidectomy.
In this prospective, noncontrolled study, 100 patients with primary hyperparathyroidism underwent a sestamibi scan and ultrasonography preoperatively to localize the affected parathyroid gland. With a sestamibi scan, an adenomatous parathyroid gland retains the radiolabeled agent, which allows its localization in a great majority of cases. In this study, the sestamibi parathyroid scan had a sensitivity of 90%, a positive predictive value of 97%, and a negative predictive value of 36%. Ultrasound was helpful not only to corroborate the sestamibi images in localizing the parathyroid adenoma, but it also helped to rule out otherwise nonpalpable thyroid nodules that may potentially lead to false positive sestamibi results.