Management: The pathologist who performed the frozen section was unable to make a diagnosis and requested special staining. Given the unclear pathology on frozen section, the decision was made to excise only bulky adenopathy, without sacrifice of any vital nerves, muscles or vessels.
The final histopathology revealed components of both squamous cell carcinoma (SCC) and small cell lymphoma in both the parotid gland and cervical lymph nodes (Figures 1 and 2). A multi-disciplinary treatment team recommended adjunctive platinum-based chemotherapy. Radiation of 7200 cGy to the parotid and 5400 cGy to the neck was delivered. On a PET scan at three months post treatment, the patient was found to have a new hypermetabolic nodule in the anterior mediastinum with a SUV of 5.4. The patient underwent a Chamberlain procedure for biopsy, with pathology showing isolated squamous carcinoma without a lymphomatous component. The patient expired of complications from his cancer in the following month. The patient survived a total of eight months after diagnosis of the parotid collision tumor.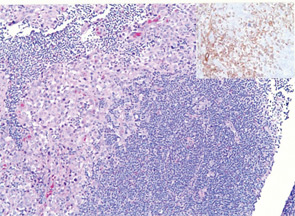 Figure 1: Intraparotid lymph node with metastatic squamous cell carcinoma, confirmed by immunostains for p63 and cytokeratin 5/6 (insert).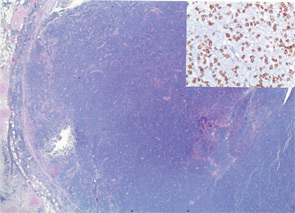 Figure 2: Intraparotid lymph node with small lymphocytic lymphoma, B-cell type, confirmed by immunostains for lymphocytic markers including CD20 and CD23 (insert).
Discussion: A collision tumor is a rare entity defined as two independent, histologically distinct neoplasms co-existing within the same mass.1 A collision tumor may form synchronously or metachronously. The genesis of synchronous collision tumors is debated. Though it is possible that two neoplasms may sporadically form in the same mass by chance, a pathophysiologic foundation for the development of these coexisting lesions is proposed. One hypothesis posits a common stem cell from which the two independent neoplastic lineages arise. It has also been hypothesized that a collision tumor may arise synchronously from the localized action of a carcinogen on two adjacent cell lines.2 A metachronous collision tumor is thought to develop when one neoplasm creates a microenvironment that enhances the growth of a second neoplasm through either a paracrine effect such as a change in blood flow, oxygen tension, stem cell differentiation or local immune function, or by attracting metastases from a distant pre-existing lesion.3
This case documents a novel collision tumor of SCC and small cell lymphoma within the parotid gland. Additionally, a synchronous third primary tumor, melanoma of the contra-lateral ear lobe, was identified. The parotid gland is the last salivary gland to encapsulate and often contains entrapped lymph nodes. As a result of this embryological development, there is ectodermal salivary tissue directly adjacent to lymphoid tissue within the parotid gland, and this may explain the proclivity of the parotid gland to harbor this particular type of collision tumor.4
The development of co-localized lymphoma and SCC is particularly intriguing. It is hypothesized that not only are patients with other malignancies predisposed to lymphoma but also that lymphoma itself may alter the immune system, thereby increasing the risk of another malignancy. Kakarala and colleagues report a case of a 73-year-old man with a cervical lymph node harboring recurrent metastatic SCC and B-cell lymphoma and hypothesize that the patient's lymphoma induced a localized immunosuppression that allowed for the recurrence of previously treated SCC.5 Given that the patient presented in this report had melanoma, his risk for other cutaneous malignancies was high. It is possible his SCC was metastatic to the parotid, as primary SCC of the parotid is among the rarest type of primary parotid malignancies, though cutaneous SCC was not noted in the history or physical examination.
References