Consider CPAP
Dr. Kass initiates CPAP in approximately 95 percent of the children referred to him by the obesity clinic. "It may seem aggressive to try CPAP on a kid who only has mild sleep apnea, but I do it anyway," he said. "With kids, it's not about the severity of apnea; it's about the presence or absence. If it's there, it's probably affecting the child's metabolism and daytime functioning."
Beginning CPAP may help address the obesity issue as well. "The most exciting science I've seen in the last five years has been findings that suggest that treatment for obstructive sleep apnea, all by itself, improves metabolism," Dr. Kass said. "Fat calls secrete a peptide called leptin, and when they over-secrete leptin, we get leptin resistance, and leptin resistance leads to insulin resistance. When you treat obstructive sleep apnea, the leptin goes away." One 2003 study found that insulin sensitivity in patients with OSA improved after just two days of CPAP and remained improved at three months (Am J Resp Crit Care Med. 2004;169:156-162).
Despite the fact that CPAP is not FDA approved for children who weigh less than 40 pounds or are younger than seven years of age, it can and should be considered for the treatment of OSA in the obese pediatric population, said Carole Marcus, MBBCh, director of the Sleep Center at Children's Hospital of Philadelphia. "We certainly use it in very young children, and so do others," she added. Compliance can be an issue, however. "It's much harder to get a child to wear a CPAP mask," she said. "You can't just have a DME [durable medical equipment] company drop off a CPAP machine at the house and expect the child to wear it. You need to use a family-centered approach and behavioral modification program, adapted to the age of the child."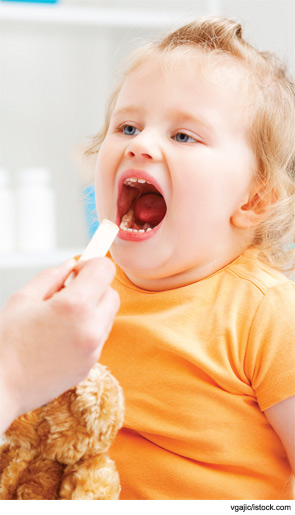 Pediatric weight management experts are aware of the link between obesity and apnea.
Tonsillectomy and Adenoidectomy
While adenotonsillectomy (T&A) is generally the first-line treatment for children with OSA, it's usually not as effective in the obese pediatric population as it is for non-obese children. For most pediatric patients with sleep apnea, "removing their tonsils and adenoids results in an 80 to 90 percent cure rate," Dr. Kaplan said. "The cure rate after T&A for the obese pediatric population is only about 50 percent."
Many obese children will have continued OSA after T&A, so Dr. Kass recommends reassessing patients post-surgery and performing a sleep study six months after surgery, to determine whether there is a need for additional intervention. Re-evaluation is also necessary as the child grows and matures. "There's certainly data to suggest that sleep apnea can reoccur," Dr. Marcus said. "Children are likely to gain weight as they get older, and when males go through puberty, testosterone changes the shape and size of the airway. Plus, as children become adults, they may adopt habits, such as having a bit of alcohol, that would increase their propensity for sleep apnea."