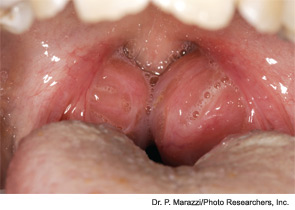 In the pediatric obese population, enlarged tonsils can contribute to the development of obstructive sleep apnea.
Initiate Referrals
Referring an obese child and his family to a weight management program, if they are open to such a referral, may improve the child's long-term health and the odds of successfully treating OSA. "The single most effective intervention you can take for sleep apnea is weight loss," Dr. Kaplan said. "Of course, referring to a weight management program isn't going to preclude the need for surgical intervention if the patient has tonsils and adenoids that are contributing to sleep apnea. But what they can do is start the patient on the road to the behavioral changes that are necessary for long-term weight management."
Another important aspect of the assessment and treatment of obese children is the early involvement of other members of the health care team, including sleep medicine physicians, nutritionists, behavioral psychologists and even genetic specialists, said Dr. Kaplan. If he suspects sleep apnea in an obese pediatric patient, he'll order a pediatric sleep study and initiate a referral to a nearby pediatric obesity program. Such multidisciplinary approaches to weight management are becoming increasingly common. Many academic medical centers and children's hospitals now include pediatric obesity or weight management programs.
Pages: First | ← Previous | ... | 2 |3 | 4 | ... | Next → | Last | Single Page