A year later, Dr. Riess and her colleagues published the results of another randomized clinical trial that looked at the benefits of empathy training for resident physicians and fellows in multiple specialties—surgery, medicine, anesthesiology, psychiatry, ophthalmology, and orthopedics (J Gen Intern Med. 2012;27:1280-1286). That study also found that physicians randomized to empathy training experienced greater changes in empathy, as measured by the Consultation and Relational Empathy (CARE) measure, when compared with those randomized to standard post-graduate medical education, as well as significantly greater changes in their knowledge of the neurobiology of empathy and their ability to decode facial expressions showing emotion.
In a more recent systematic review and meta-analysis of randomized controlled trials that looked at the influence of the patient-clinician relationship on healthcare outcomes, researchers found that the patient-clinician relationship had a small but significant effect on healthcare outcomes (PLOS One 2014;9:e94207).
According to Dr. Riess, the senior author of the study, the review highlighted the reality that the patient-clinician relationship affects not only patient satisfaction but also hard outcomes such as diabetes and hypertension. "The study showed a significant impact on health outcomes, so that relationship building is not only about patient satisfaction but also engages patients to work toward [solving] their own health problems," she said, adding that these relationship factors are extremely important for the overall state of healthcare and healthcare spending in the United States.
A particularly rewarding benefit of the training, said Dr. Riess, is the response she's heard from established physicians who say that they enjoy their jobs again. "One of the key side benefits of more engagement with patients is that doctors start to feel that their jobs are meaningful again," she said, noting how important this is when so many physicians show signs of burnout.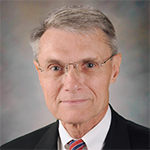 For the educator, one must understand the spectrum of empathy found in physicians and guide improvement and appropriateness. We have so many assaults on the patient-physician relationship that empathy can be lost in the midst of electronic health records, shorter patient contact times, onerous regulations and laws, and financial issues.
—G. Richard Holt, MD
Challenges of Teaching Empathy
There is no surprise that one challenge to empathy training is time. "We need to be aware of not just piling on teaching for trainees and practicing physicians," said Jo Shapiro, MD, division chief of otolaryngology–head and neck surgery and associate professor of otology and laryngology at Harvard Medical School, Brigham and Women's Hospital in Boston, adding that new training has to be done in ways that don't create negative feelings.