Constant advances in technology have allowed for increased ease in performing office-based procedures. In addition, the fact that many surgical techniques can now be done under topical or local anesthetia with or without sedation makes them more suitable to a clinical environment.
Performing certain procedures in an otolaryngology office as opposed to an in-hospital setting can have many advantages, such as cost savings, ease of scheduling, and more efficient use of physician and patient time.
Nonetheless, otolaryngologists need to keep in mind that adverse events are a very real risk of in-office treatments and can catch the surgeon and support staff off guard. In-office adverse events are difficult to track and are not likely reported unless they occurred as part of a published paper. A 2013 review summarized six papers on in-office laryngology procedures and showed that the overall adverse event rate is low (Otolaryngol Clin North Am. 2013;46:63-74).
But Farhad Sigari, MD, an otolaryngologist at Del Rey ENT Associates in Marina Del Rey, Calif., said that as more surgeons transition to in-office therapies, the overall occurrence of in-office adverse events will likely increase. "As done in the hospital setting, it will be important to track and report adverse events so that quality assurance methodologies can be applied to minimize future occurrences," he said.
The most troubling events are those that can lead to airway compromise, added Dr. Sigari, who notes that vasovagal responses are very common in all otolaryngology procedures when a patient is awake. Excessive bleeding or edema can restrict the airway, and foreign bodies can become dislodged in the airway.
According to John M. DelGaudio, MD, chief of rhinology and sinus surgery and director of Emory University School of Medicine's Sinus, Nasal, and Allergy Center in Atlanta, each subspecialty procedure entails different potential complications. The most common rhinology complication is epistaxis. He singles out laryngology as the otolaryngology focus with the most serious potential complications, because manipulation of the airway can result in edema and airway obstruction.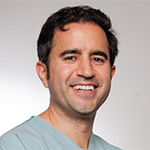 Physicians need to be very aware of their own limits and be willing to abort a procedure before it progresses on a downward spiral toward an adverse event.
—Farhad Sigari, MD
With regard to laryngology procedures specifically, laryngospasm may result from excessive laryngeal stimulation without adequate topical anesthesia. "This complication could result in acute airway obstruction that will often respond to positive pressure ventilation or topical lidocaine," said James J. Daniero, MD, MS, assistant professor in the division of otolaryngology at the University of Virginia in Charlottesville. In more severe cases, however, it is necessary to use neuromuscular paralysis and endotracheal intubation. "Fortunately, this is excessively rare in unsedated patients," he said, "and rarely is airway obstruction due to edema or hematoma formation, but this risk still remains."