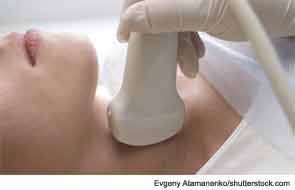 While it does add time to an office visit, a
thyroid
ultrasound is fairly quick and straightforward.

ORLANDO—Having procedures and tests performed right in the office is an attractive prospect for both doctors and patients, and it's becoming more and more common. A panel of experts here touched on laser ablation of laryngeal pathologies, rhinology imaging, neck ultrasounds and aesthetic lasers—all in the office setting—and offered guidance for those considering trying to provide more services directly at the point of care. The experts were gathered April 12 at the 116th Annual Meeting of the Triological Society, held as part of the Combined Otolaryngology Spring Meetings.
Lasers
Gaelyn Garrett, MD, medical director at the Vanderbilt Voice Center in Nashville, Tenn., said that lasers are just "an instrument" when it comes to treating laryngeal pathologies. "Laser technology is an option," she said. "It's a way to accomplish an end result. But it's usually not the only way to accomplish an end result. So the laser itself is not a treatment, it's how you get to the treatment outcome."
She added that "not all lasers are equal," and there are options for wavelength choice, method of delivery and the pulse structure. Users should keep in mind what their target chromophore is, whether it's water, melanin or hemoglobin. They should have at least a basic understanding of how laser-tissue interaction works and should have a good grip on the nature of the pathology, particularly whether it's stable.
A big consideration is whether a patient is capable of handling an awake flexible laryngoscopy, which can be "a little stressful." A dose of the cough suppressant benzonatate in the morning of the day of the procedure, plus another dose an hour before, can help, Dr. Garrett said. "I did not [use benzonatate] when I first started doing these procedures, and it has made a big difference I think, probably in the majority of my patients," she said.
The office option doesn't necessarily mean a procedure shouldn't be done in the operating room, she added. "Most of these can be done either in the O.R. or the office," she said. "Sometimes for precision you're probably better off going to the O.R. if you've got a patient who doesn't have any anesthetic risk."
Imaging
Point-of-service imaging in rhinology is done either by cone beam CT, which uses a lower radiation dose, with an upright, compact design; or the more conventional standard multi-slice CT in a miniaturized form, said Brent Senior, MD, chief of the division of rhinology, allergy and endoscopic skull base surgery at the University of North Carolina School of Medicine in Chapel Hill.