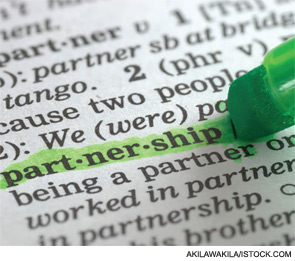 Physicians who join a medical practice often have the opportunity to purchase an equity interest in the practice after some period of employment with the group, an issue that is usually addressed in the physician's employment agreement. If you think you may be interested in such a partnership, you should carefully review your employment agreement before signing it. The amount of detail in the employment agreement regarding potential ownership will vary depending on the practice and the negotiating power of the individual physician. Clearly, the more specificity found in the contract, the better you will be served.
Ownership Interest
The employment agreement should specify whether and when you will be eligible to acquire an interest in the practice. The idea of remaining an employee may be attractive to you if you prefer to have less involvement in the business and financial aspects of the medical practice. Sometimes cost becomes a critical issue.
If you intend to purchase an ownership interest, however, the timeframe and conditions for exercising that right should be specified in writing. The following is an example of a provision addressing the option to purchase an equity interest:
"The parties agree that it is their intent that upon X years of continuous employment pursuant to the terms and conditions of this Agreement, Physician shall be given the opportunity to purchase [a partnership interest or stock] in Practice."
Performance Reviews
Your employer may require that you achieve satisfactory results on performance reviews conducted by senior physicians as a condition of purchasing an equity interest. While these reviews are frequently based on subjective standards, you should seek a contractual commitment describing the criteria to be evaluated in order to make the reviews as objective as possible. Standard criteria include statistical analysis (e.g., number of patients seen a day, number of procedures performed a week), the quality of patient care rendered and contributions to the practice's operations (e.g., marketing, community outreach).
In addition, your employment agreement should specify the frequency of your performance reviews. I suggest that physician reviews occur at least annually and preferably semi-annually, especially during the initial years of employment. Regardless of how often the reviews are conducted, it is highly beneficial to both the practice and the physician-employee that the time periods for evaluations be strictly enforced. Consistent, formal performance reviews promote improvement and synergy between the physician and the practice.