In 28 months of follow-up, 50 patients (94%) had successful repairs at the first attempt without recurrences. The lumbar drain pressures were recorded on 40 of 53 patients, who had an average of 27.9 cm of water. To address the intracranial hypertension, the treating physicians used acetazolamide or, in severe cases, a ventriculoperitoneal shunt.
Bone Grafts Provide Stronger Support
Although there are multiple approaches to repair leaks in the setting of elevated CSF pressure, the goal should be a mechanism that gives stiffer, stronger support than was present before the leak, Dr. Palmer said. Therefore, we recommend using bone in the closure, he said. The bone tissue should be autologous, and can be harvested from the septum, mastoid tip, or turbinate.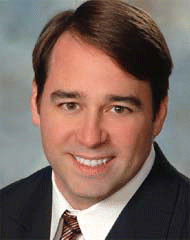 Otolaryngologists need to know that there are different types of CSF leaks, primarily spontaneous leaks and those that occur following a traumatic event such as sinus surgery. They also should know that CSF can leak into the temporal bone or ear as well as the nose.
-Todd Kingdom, MD
Tips for Preventing Complications
Dr. Palmer went on to describe several other measures to take when repairing spontaneous CSF leaks. For example, the surgeon should take care to prevent fistula regrowth by ensuring that the mucosa is removed at least 0.5 cm away from the site of the leak in all dimensions. If you are working in an anatomic area with thinned bone, consider bone from the turbinate, he advised. Then you'll be placing a thinner, collapsible bone into the deficit. You could cause a fracture and an increase in the size of the deficit if you use a thicker bone, such as the mastoid, in such settings.
When the harvested bone is in place, he and his colleagues often seal the site with fibrin glue. The glue can cause scarring, which is desirable in the setting of CSF leak repair, he said. The site should then be covered with some form of soft tissue, such as the septal mucosa, the turbinate mucosa, or temporalis fascia. Finally, surgeons should be sure to avoid blocking the drainage of other sinuses and the subsequent collateral damage, he said.
The critical issue is to make sure you are aware of the baseline CSF pressure of the patient, he said. If it is high, you need more advanced techniques for closure to get the 95 percent to 100 percent success rate we see with other types of CSF leaks. A mucosal graft without bone support is often unsuccessful in these cases.