Focus shifted from infection to inflammation in new report and practice parameters
Chronic rhinosinusitis (CRS) is a very complex disease. However, recent work by researchers and cross-disciplinary panels is starting to build understanding of the condition and to standardize management of it. One major advance has been the shift from identifying the etiology of CRS as potentially bacterial to focusing on the multifactorial reasons for the underlying inflammation.
We are beginning to understand and identify the causes of CRS and subsequently rethink how to effectively manage the disease since more research, resources, and energy have been committed to it, said Jack Anon, MD, an otolaryngologist with Ear Nose and Throat Specialists of Northwestern Pennsylvania in Erie. However, we still have many layers of the onion to peel back; that is, there is much work and research to be done before we have all of the answers.
Practice Parameters and Standard Terms
With the December 2005 publication of The Diagnosis and Management of Sinusitis: A Practice Parameter Update in the Journal of Allergy & Clinical Immunology, ENTs and allergists are definitely in agreement that we have to rethink the causes of CRS, said lead author Raymond G. Slavin, MD, MS, Director of the Division of Allergy and Immunology at Saint Louis University School of Medicine (Mo.).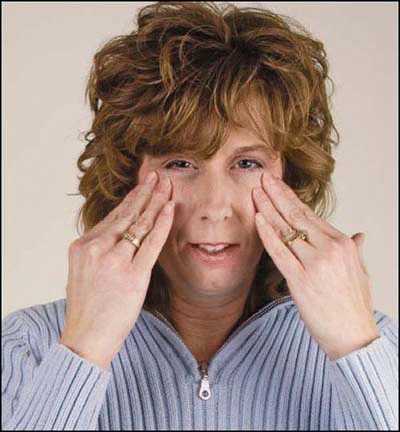 click for large version
Figure. One major symptom of CRS is facial pressure or pain that has been continuously present for at least 12 weeks.
One of the first steps toward consensus occurred in September 1997, when the Sinus & Allergy Health Partnership's (SAHP) Task Force on Rhinosinusitis released a report, published as a supplement to Otolaryngology-Head and Neck Surgery, to define various forms of rhinosinusitis in general (Otolaryngol Head Neck Surg. 1997;117(3): S1-S7). It was imperative that the nomenclature be standardized so that researchers and physicians, regardless of specialty, would all be on the same page when discussing the disease, said Dr. Anon, Chair of the Task Force.
In this report, the name sinusitis was changed to rhinosinusitis since the condition is often preceded by rhinitis and rarely occurs without concurrent nasal airway inflammation. Rhinosinusitis is now the accepted terminology used by otolaryngologists-head and neck surgeons.
Rhinosinusitis Redefined
Rhinosinusitis is thought to cover a spectrum of inflammatory and infectious diseases that affect the nose and paranasal sinuses. It is separated into five clinical categories-acute, sub-acute, recurrent acute, chronic, and acute exacerbations of chronic-many of which have well defined symptoms and treatment protocols. However, this is not the case with CRS.
A new SAHP task force redefined CRS as a group of disorders characterized by inflammation of the mucosa of the nose and paranasal sinuses of at least 12 consecutive weeks' duration, in its research-oriented 2003 report, Adult chronic rhinosinusitis: Definitions, diagnosis, epidemiology, and pathophysiology, which focused only on adult CRS. The task force determined that chronic bacterial rhinosinusitis as the primary etiology of CRS is no longer appropriate, since CRS is bacterial in less than half the cases, said contributing author J. David Osguthorpe, MD, Professor of Otolaryngology-Head and Neck Surgery at the Medical University of South Carolina in Charleston. We didn't even use the word 'infection' in our definition of CRS, preferring 'inflammation,' which is the final common pathway of many etiologies.
Attention shifted away from bacterial infections and toward underlying inflammation as the cause, especially since research during the six-year time span between reports found that CRS can result from multiple factors, such as allergies, fungus, medication, trauma, immune deficiencies, anatomic anomalies, pollution, and genetics.
We are beginning to understand and identify the causes of CRS and subsequently rethink how to effectively manage the disease since more research, resources, and energy have been committed to it. – Jack Anon, MD
What the Research Says
For example, a large, multi-center, double-blind, placebo-controlled study conducted at the Mayo Clinic in 1999 found that CRS was often fungal in origin; it is the immunologic response to the fungi that results in the symptoms (Mayo Clin Proc. 1999;74(9):877-884). Prior to this research, the presence of fungi in the nasal mucus was infrequently detected, due to the unavailability of a sensitive staining method and improper handling of specimens. Another study from the Mayo Clinic describes a new process used to identify fungus in the mucus of patients with CRS (Otolaryngol Head Neck Surg. 2002;127(5):377-383). In some studies, investigators cultured fungi from nearly 100% of patients with rhinosinusitis and nasal polyposis (Ann Otol Rhinol Laryngol Suppl. 2004;193:27-31), but in some subsequent studies, the fungal predisposition was much less obvious.
These findings created somewhat of a controversy. There is, however a good amount of data and basic science to back it up, said Dr. Slavin.
Diagnosing the Disease
With the understanding now that CRS is a multifactorial, inflammatory disease, otolaryngologists have to approach CRS with all of the disease entities in mind if they are to identify the correct etiology and hence be able to treat it effectively, Dr. Osguthorpe.
The diagnosis of CRS can be very difficult as symptoms may be subtle or resemble those of low grade acute rhinosinusitis. The major symptoms of CRS include facial pressure or pain, nasal obstruction, discharge or purulence, and hyposmia or anosmia that have been continuously present for at least 12 weeks. One sign of inflammation-such as discolored nasal drainage, edema or erythema of the middle meatus or ethmoid bulla, generalized or localized erythema, edema, or granulation tissue, or confirmation from a computed tomography (CT) scan or plain sinus radiograph-must be present and identified in association with ongoing symptoms of chronic rhinosinusitis.
The minor symptoms include fever, halitosis, fatigue and dental pain. The clinical diagnosis relies heavily on the patient history and physical examination and may include nasal endoscopy and CT for confirmation. MRI is not recommended as an alternative for CT as the false positive rate is high.
Until the exact cause for CRS in a patient is determined, physicians too often resort to maximum medical therapy to try and treat it, said Dr. Anon. You can't tell anyone exactly how to manage CRS since patients are different, the etiology of their disease is different, and physician training is different.
Treatment Guidelines
To help alleviate some of this shotgun approach to treatment, representatives from the Food and Drug Administration; American Academy of Allergy, Asthma and Immunology; American Academy of Otolaryngic Allergy; American Academy of Otolaryngology-Head and Neck Surgery; American College of Allergy, Asthma and Immunology and American Rhinologic Society met together in 2004 to prepare evidence-based rhinosinusitis guidelines.
The resulting report, Rhinosinusitis: Establishing definitions for clinical research and patient care published concurrently as supplements in the Journal of Allergy & Clinical Immunology and Otolaryngology-Head and Neck Surgery, provides the foundation for the 2005 allergy practice parameter update.
ENTs can treat the entire spectrum of CRS. We have the medical and surgical tools in our armamentarium so that patients only have to see one physician. – J. David Osguthorpe, MD
Within this report, no one etiologic factor fully explains or adequately accounts for the pathologic manifestations and clinical differences found in rhinosinusitis. The inflammatory piece of rhinosinusitis is described as a result of mixed mononuclear inflammatory cell infiltrate with neutrophils occurring mostly in the acute disease and eosinophils appearing in chronic disease.
Chronic rhinosinusitis has a significant inflammatory component that may be caused simultaneously or independently by various factors. These include, but are not restricted to, the possible roles of:
Persistent infection as a factor in chronic rhinosinusitis including biofilms and osteitis;
Allergy and other disorders of immunity;
Intrinsic factors of the upper airway;
Super antigens from Staphylococcus aureus in chronic rhinosinusitis with nasal polyps;
Colonizing fungi that induce and sustain eosinophilic inflammation; and
Metabolic perturbations such as aspirin sensitivity.
Cross-Group Consensus
Dr. Osguthorpe told ENToday, because of this joint effort in 2004, both groups now agree that there should be no substantial differences in their medical treatment of CRS. Intranasal corticosteroids are now a common choice as initial therapy reserving antibiotic therapy, the prior mainstay of CRS treatment, for obvious infection.
I think we may have known for a while that the great majority of cases of CRS were not infectious since CRS didn't respond to repeated courses of antibiotics, said Dr. Slavin.
The allergy practice parameter update clearly indicates that simple acute bacterial rhinosinusitis can be treated by a primary care physician, but if it is recurrent or chronic rhinosinusitis, then it is best to refer to a specialist, said Dr. Osguthorpe.
The difference is that ENTs can treat the entire spectrum of CRS. We have the medical and surgical tools in our armamentarium so that patients only have to see one physician. It is important for all to realize that surgery is necessary only in a minority of CRS cases, said Dr. Osguthorpe.
New Surgical Approaches
Additionally, some otolaryngologists-head and neck surgeons may be changing the way they do surgery for patients with CRS, concentrating on removing only the very modest amount of tissue that actually obstructs a sinus, plus any inspissated mucous (as in allergic fungal rhinosinusitis) or polyps. This change is based on a study that appeared in the Journal of Allergy and Clinical Immunology and reports that nasal and sinus mucus from people with CRS contained activated eosinophils that produce a toxic protein that is elevated in the mucus, but not present in the tissue itself (J Allergy Clin Immunol. 2005; 116(2):362-369).
According to the authors of the allergy practice parameter, significant improvement for patients with CRS often requires a combination of appropriate surgical intervention with intensive postoperative local management to the region and appropriate medical therapy.
CRS: Fast Growing Area of Research
Based upon the culmination of these reports to date, Dr. Anon advises his otolaryngology colleagues to keep their antennas up, as CRS is a topic in progress and exciting new knowledge is constantly being learned and evaluated. For example, the allergy practice parameter update mentions other factors that might be associated with rhinosinusitis, such as gastroesophageal reflux disease (GERD), and a possible relationship between rhinosinusitis and otitis media or bronchial asthma.
Since Americans make more than 500,000 emergency department visits annually for CRS, according to the National Center for Health Statistics, keeping abreast of research on CRS and correctly identifying its causes in order to provide the most effective treatment is imperative for all physicians, regardless of specialty.
©2006 The Triological Society