Focus shifted from infection to inflammation in new report and practice parameters
Chronic rhinosinusitis (CRS) is a very complex disease. However, recent work by researchers and cross-disciplinary panels is starting to build understanding of the condition and to standardize management of it. One major advance has been the shift from identifying the etiology of CRS as potentially bacterial to focusing on the multifactorial reasons for the underlying inflammation.
We are beginning to understand and identify the causes of CRS and subsequently rethink how to effectively manage the disease since more research, resources, and energy have been committed to it, said Jack Anon, MD, an otolaryngologist with Ear Nose and Throat Specialists of Northwestern Pennsylvania in Erie. However, we still have many layers of the onion to peel back; that is, there is much work and research to be done before we have all of the answers.
Practice Parameters and Standard Terms
With the December 2005 publication of The Diagnosis and Management of Sinusitis: A Practice Parameter Update in the Journal of Allergy & Clinical Immunology, ENTs and allergists are definitely in agreement that we have to rethink the causes of CRS, said lead author Raymond G. Slavin, MD, MS, Director of the Division of Allergy and Immunology at Saint Louis University School of Medicine (Mo.).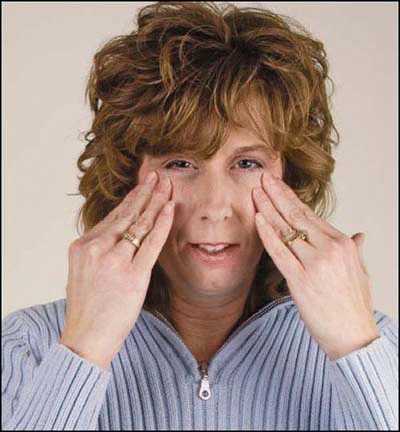 click for large version
Figure. One major symptom of CRS is facial pressure or pain that has been continuously present for at least 12 weeks.
One of the first steps toward consensus occurred in September 1997, when the Sinus & Allergy Health Partnership's (SAHP) Task Force on Rhinosinusitis released a report, published as a supplement to Otolaryngology-Head and Neck Surgery, to define various forms of rhinosinusitis in general (Otolaryngol Head Neck Surg. 1997;117(3): S1-S7). It was imperative that the nomenclature be standardized so that researchers and physicians, regardless of specialty, would all be on the same page when discussing the disease, said Dr. Anon, Chair of the Task Force.
In this report, the name sinusitis was changed to rhinosinusitis since the condition is often preceded by rhinitis and rarely occurs without concurrent nasal airway inflammation. Rhinosinusitis is now the accepted terminology used by otolaryngologists-head and neck surgeons.
Rhinosinusitis Redefined
Rhinosinusitis is thought to cover a spectrum of inflammatory and infectious diseases that affect the nose and paranasal sinuses. It is separated into five clinical categories-acute, sub-acute, recurrent acute, chronic, and acute exacerbations of chronic-many of which have well defined symptoms and treatment protocols. However, this is not the case with CRS.