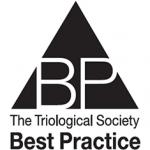 TRIO Best Practice articles are brief, structured reviews designed to provide the busy clinician with a handy outline and reference for day-to-day clinical decision making. The ENTtoday summaries below include the Background and Best Practice sections of the original article. To view the complete Laryngoscope articles free of charge, visit Laryngoscope.com.
Background
The decision to proceed with elective neck dissection (END) is based on the probability of finding microscopic disease in a patient without clinical evidence of lymph node metastases. In contrast to squamous cell carcinoma of the head and neck, there is currently no standard of care for END in salivary gland carcinoma. This is due in large part to the relatively low incidence of these tumors and the diversity of histologic subtypes therein, many of which exhibit distinct tumor biology. Nevertheless, great progress has been made in recent decades in describing and predicting the behavior of salivary gland cancers. For mucoepidermoid carcinoma (MEC), the most common salivary gland malignancy, histologic tumor grade has emerged as the most important prognosticator for lymph node disease. However, in light of varying histologic grading criteria, technical difficulty in interpreting salivary gland histology, and a relative paucity of clinical data, there is no consensus on the reliability of tumor grade when considering elective treatment of the clinically negative (N0) neck in MEC patients.
Best Practice
The histologic grade of MEC has been consistently shown to correlate with the risk of lymph node metastases across multiple standardized grading systems. Because high-grade MEC has been associated with a 30% to 50% risk of occult metastases, END may be indicated in this setting based on this histologic finding alone. Elective neck dissection in this scenario may spare radiation dose to the neck in patients found to be pathologically node-negative. Low- and intermediate-grade MEC, with significantly lower risk of nodal metastases, do not require END in the absence of other high-risk factors. Elective radiation may be an effective alternative to END in the clinically N0 MEC patient and should be considered when patient comorbidities or other factors favor a more limited surgical approach. Histologic grade is not the only factor that merits consideration when debating elective treatment of the neck. Most notably, advanced T stage has emerged as another important risk factor for occult disease. (Laryngoscope. 2016;126:11–13).