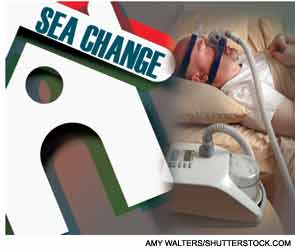 Diagnosis and treatment for obstructive sleep apnea (OSA) continue to be vital; according to the National Institutes of Health National Heart, Lungs and Blood Institute physician office visits for sleep apnea increased from 2 million to 3.7 million from 2000 to 2009.
There has been a transformation in how OSA is diagnosed and treated, however. Home sleep studies are swiftly replacing in-lab polysomnographs (PSG), automatic positive air pressure (APAP) machines are being introduced in place of traditional in-lab continuous positive air pressure (CPAP) titration studies, and surgical procedures for treatment are increasingly varied in type.
Home Sleep Studies
In 2008, CMS approved the use of home sleep studies to diagnose OSA patients and qualify them for CPAP. The majority of private insurers have followed CMS's lead and now require home sleep tests for OSA diagnosis.
"The information you receive from a home sleep study is adequate for diagnosing patients with moderate to severe OSA without comorbidities such as heart disease or morbid obesity," said Kathleen Yaremchuk, MD, MS, chair of the department of otolaryngology-head and neck surgery at Henry Ford Hospital in Detroit. Home studies aren't adequate for all patients, she added, but for a large portion of the population, they're appropriate.
Some physicians have concerns about gaps in the data that home study machines record, however. "There are different types of machines, and CMS stated that for them to pay for a home sleep test (HST) or CPAP treatment that was to follow, certain requirements needed to be met. Those requirements only referenced sleep apnea measures," said Lee Shangold, MD, an otolaryngologist who's board certified in sleep medicine, and a partner in New York and New Jersey-based ENT and Allergy Associates. "Most HST machines, for example, don't measure other aspects of sleep that are routine in the sleep lab, such as periodic limb movements (PLMs). A patient with frequent PLMs may present for evaluation of excessive daytime sleepiness (EDS). If they snore, a sleep study will likely be ordered. If they do not have significant OSA on an HST, the work-up for a sleep disorder contributing to the EDS may end. However, if they were in the sleep lab and had frequent PLMs, they would then be evaluated and possibly treated for PLM disorder with resolution of the EDS."
In addition, according to Stacey Ishman, MPH, MD, surgical director of the Upper Airway Center at Cincinnati Children's Hospital Medical Center, affiliated with the University of Cincinnati, many home sleep studies underestimate OSA due to a poor negative predictive value. "They have algorithms that are good at picking up drops in oxygen, but there is a patient subset with partial obstruction (hypopnea) that machines may not pick up," said Dr. Ishman. "This is why they're not recommended for children, as most pediatric patients have hypopneas, not apneas. Home tests have a great positive predictive value, but they may not be sensitive enough to rule out OSA in people who are at low risk for sleep apnea."