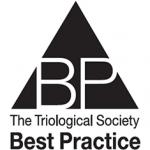 TRIO Best Practice articles are brief, structured reviews designed to provide the busy clinician with a handy outline and reference for day-to-day clinical decision making. The ENTtoday summaries below include the Background and Best Practice sections of the original article. To view the complete Laryngoscope articles free of charge, visit Laryngoscope.
BACKGROUND
Oral isotretinoin, formerly sold under the brand name Accutane, is frequently prescribed for the management of acne vulgaris and has been shown to be an effective option for patients with this condition. However, it has been suggested that isotretinoin may result in atypical wound healing, with increased keloid formation and hypertrophic scars (Aesthetic Plast Surg. 2016;40:139-148). It has been theorized that these side effects are due to isotretinoin's effects on skin thinning and inhibition of sebaceous glands, resulting in skin dryness and deeper injury to the dermis as epidermal cell sprouting from sebaceous glands contributes to split-thickness skin healing (Aesthetic Plast Surg. 2016;40:139-148). Therefore, several prior studies have recommended discontinuing isotretinoin up to six to 24 months prior to surgical intervention (Aesthetic Plast Surg. 2016;40:139-148; J Cutan Med Surg. 2017;21:325-333). However, this practice remains controversial, as several studies have reported no increased risk of side effects to the skin of inpatients using isotretinoin, and recent literature has suggested no increased incidence of facial scarring after surgery. The purpose of this summary is to review the existing evidence on whether isotretinoin should be stopped prior to surgical management.
BEST PRACTICE
Although earlier case reports and animal studies have suggested compromise to wound healing related to the use of isotretinoin, recent prospective clinical studies have not found an increased incidence of facial scarring in patients using isotretinoin in the perioperative period. Isotretinoin carries well-known side effects such as neutropenia and transaminitis (Aesthetic Surg J. 2020;40:NP657-NP665), which warrants careful consideration prior to prescription of this drug. In addition, isotretinoin-induced skin thinning could result in poor epithelialization, which may result in subsequent scarring with long-term isotretinoin use (Aesthetic Plast Surg. 2016;40:139-148). Nonetheless, the practice of holding isotretinoin prior to surgical intervention may not be indicated, may result in a delay of surgical treatment, and may also lead to the persistence or recurrence of acne.