Sialendoscopy has changed my entire approach to salivary obstructive disease, said Barry M. Schaitkin, MD, Associate Professor in the Department of Otolaryngology at the University of Pittsburgh School of Medicine. I think it will take over completely the approach to treating salivary gland stones.
Indeed, the minimally invasive procedure has been proving to be effective for both diagnosis and management of obstructive salivary gland disorders. After 10 years of expansion in Europe,1-4 the technique is now gaining purchase in the United States.5 In properly trained hands, say otolaryngologists and head and neck surgeons, sialendoscopy can be used to effectively manage obstructive salivary gland disorders (especially calculi).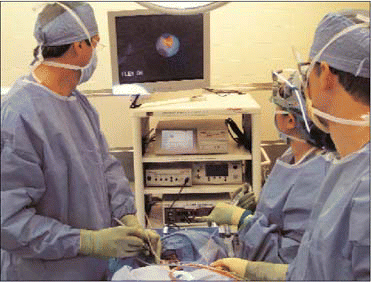 click for large version
Figure. David W. Eisele, MD (left), and his associates perform a sialendoscopic procedure. Its minimally invasive nature means that sialendoscopy will increasingly offer real benefits to patients.
However, cautioned Dr. Schaitkin and two other noted otolaryngologists-one of them a developer of a widely used system-the technique is not a panacea for diagnosing and treating all disorders of the salivary gland, such as salivary tumors. Proper training and careful selection of patients are key to successful outcomes.
Development of the Procedure
Miniaturization of endoscopes and progress in fiberoptic technology enabled several researchers in the 1990s to expand the uses of endoscopy for management of obstructive salivary gland diseases. Francis Marchal, MD, PhD, Associate Professor in the Department of Otolaryngology-Head and Neck Surgery at Geneva University Hospital in Switzerland, was one of those innovators. In the early 1990s, he recalled, endoscopy was being used (notably, by Gundlach and Hopf6) in conjunction with intracorporeal lithotripsy to fragment salivary gland stones. Technical problems (caused by instruments that were too long and fragile) seemed to impede the spread of the technique.
In partnership with the Federal Polytechnic School of Lausanne, Dr. Marchal began to experiment with small-sized flexible endoscopes to see whether it would be possible to have adequate vision of the ductal system, and then to treat people with submandibular obstructions without removing the gland. With these initial forays, visualization into collapsed ducts was very poor. Dr. Marchal tried a 1.5-mm flexible scope with a rinsing system, and found that flushing the gland with saline solution was the key to greater visibility. Finally, he began collaborating with the Karl Storz Company, which had a semi-rigid 1-mm diameter scope. This scope was modified, and various outer sheath systems were designed and customized (tip, curve, etc.) in order to facilitate access to the ducts. A specific surgical technique using various dilators, and specific baskets for stone retrieval, also designed by Dr. Marchal, were set up. The Storz system (the main company manufacturing these scopes) contains a rinsing channel and a working channel with an external diameter ranging from 0.89 mm to 2.2 mm, according to different models of scopes.
Diagnostic sialendoscopy at Geneva University Hospital is usually performed using local anesthesia, whereas interventional sialendoscopy, requiring some degree of sedation, is often performed with an anesthetic standby. After lavage, it is possible to view primary, secondary, and even tertiary ducts to allow for diagnosis of stones and ductal stenosis. Stones up to 3 mm in the parotid and 4 mm in the submandibular glands can be extracted using a metallic wire basket. If stones are larger, intracorporeal laser lithotripsy is employed to fragment the stones, and the fragments can then be removed.