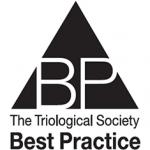 TRIO Best Practice articles are brief, structured reviews designed to provide the busy clinician with a handy outline and reference for day-to-day clinical decision making. The ENTtoday summaries below include the Background and Best Practice sections of the original article. To view the complete Laryngoscope articles free of charge, visit Laryngoscope.
Background
Oral cavity cancer continues to be a significant disease in the United States despite decreasing smoking rates. Surgery remains the primary treatment modality for operable oral cavity cancer, with adjuvant therapy reserved for patients with high-risk histologic characteristics. The ability to achieve primary-site disease control is directly related to the completeness of the surgical resection. Maintaining a disease-free primary site and preventing local recurrence is key to improving overall survival, particularly in patients with early cancer without nodal disease.
A survey of head and neck surgeons indicated that the majority determine surgical margins by obtaining intraoperative frozen sections from the tumor bed. A survey of pathologists likewise indicated that most received small pieces of tissue from the surgeon for frozen section analysis. Three recent studies that address this issue in oral cancer resections, one retrospective, and two prospective, all including cohorts of both specimen and tumor bed-based analysis, suggest that margin sampling from the main resection specimen, a specimen-driven approach, may more accurately determine the adequacy of resection and better predict local control.
Best Practice
Achieving complete tumor resection and improved local control is a major driver in predicting disease-specific survival in patients with early tongue cancer without nodal disease. There is a growing level of evidence that in the treatment of early oral cavity cancer, margin sampling from the primary resection specimen better reflects the adequacy of excision and predicts local control when compared to tumor bed sampling. Patients with T1 and T2N0 oral tongue cancer are likely to benefit a from specimen-driven margin assessment (Laryngoscope. 2016;126: 2426–2427).