Since 2004, Dr. Nussenbaum and his coworkers have used BMPs on six patients who required mandibular reconstruction due to damage from trauma or benign tumors. Of those six, five have had good results, but one patient experienced no bone growth. Cosmetic results in the five successful cases were good, with transient, superficial swelling as the only side effect.
The research is driven by its promise of real clinical benefit. "I've chosen to work in a stepwise manner, as this will have practical implications for the patients," Dr. Nussenbaum said. He is trying to avoid one of the pitfalls of basic research, the "disconnect between 'science' and practicality."
He also feels it necessary to proceed cautiously in what is still largely uncharted territory. "No one really knows yet how safe it is to use BMP therapies on someone who has had a mandible removed: Do these agents have an adverse effect on cancer cells? We still don't know the answer."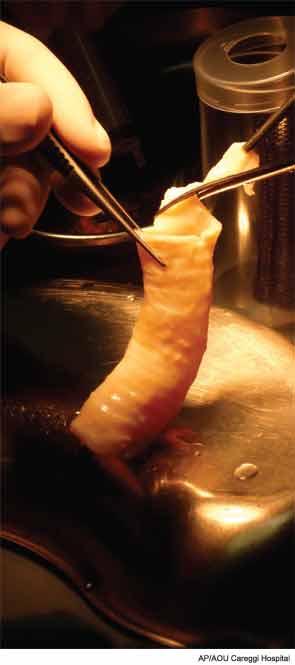 A surgical team at AOU Careggi Hospital in Italy prepares a trachea before inoculating it with stem cells and transplanting it into a cancer patient.
Gels with Cells
Tracheas are easier to reconstruct than larynges because of their function and composition, Dr. Nussenbaum said. "It's easier to regenerate cartilage than it is to reconstruct the vocal folds. Also, the larynx is mobile, unlike the trachea. So the two organs have very different microenvironments."
Nevertheless, several teams of investigators are studying ways to rebuild or repair the lamina propria in damaged vocal folds. "People have been treating the vocal folds with injections or moving the thyroid cartilage around for approximately 100 years," said Dr. Zeitels. "The key unsolved problem is how you restore pliability to the vocal folds." After working with singers, he said he's witnessed how the loss of pliability affects the voice.
Much of the research in this field has focused on developing injectable hydrogels that serve as space fillers, exhibit mechanical properties similar to the natural tissue and can function in the unique environment of the vocal fold. Xianqiao Jia, PhD, associate professor of materials science and biomedical engineering at the University of Delaware in Newark, has been developing a hyaluronic acid (HA)-based complex gel network able to withstand vibratory stresses. "Whatever material you put in the vocal cords has to be able to handle a variety of sound amplitudes," she said. These hydrogels also present minimal risk of rejection because they are non-immunogenic. Dr. Jia's group has demonstrated the ability of HA-based microgels containing immobilized biomacromolecules for the slow release and prolonged presentation of various growth factors to induce tissue repair and regeneration. They hope to begin testing the gel in animal models within the next few months.