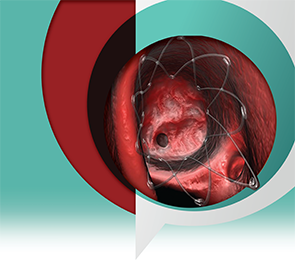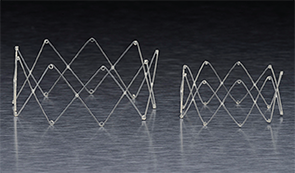 The Propel steroid-eluting stent (left) and the Propel Mini.
In August 2011, the steroid-eluting implant Propel (manufactured by Intersect ENT, Palo Alto, Calif.) received approval by the U.S. Food and Drug Administration (FDA) to maintain sinus patency following ethmoid sinus surgery. It is the first product of its kind to deliver steroids locally to the ethmoid sinus cavity to reduce the need for systemic anti-inflammation medication, potentially reducing the need for post-operative intervention such as surgical adhesion lysis. As such, it is considered a long-needed technology by clinicians who have used it.
"This is really the first step in a new way of treating sinus disease," said David Kennedy, MD, rhinology professor in the department of otorhinolaryngology: head and neck surgery at the Perelman School of Medicine at the University of Pennsylvania in Philadelphia, who's been using the implants for about two years.
According to Dr. Kennedy, who is a consultant with Intersect ENT, devices that can deliver steroids and other medications locally for diseases that are local, such as rhinosinusitis, are clearly needed. "We have very limited choices in the treatment of sinusitis," he said. "There is compelling need for these types of devices that hopefully will one day serve as a scaffold for other drugs that can be delivered locally."
Composed of a biodegradable polymer set in a lattice pattern, the steroid-eluting implant is placed within the ethmoid cavity and expands in a spring-like fashion to conform to the walls of the cavity. The implant contains 370 µg of mometasone furoate that is gradually released over 30 days.
"The device has two properties," explained Robert Kern, MD, chair, department of otolaryngology–head and neck surgery and professor in otolaryngology–head and neck surgery and medicine-allergy-immunology at the Northwestern University Feinberg School of Medicine in Chicago. "It moves the middle turbinate medially, and it elutes a steroid locally right into the surgical bed."
According to Dr. Kern, the elastic properties of the implant help stabilize the middle turbinate so that it doesn't migrate laterally during the healing process. Such migration, he said, can diminish the efficacy of the surgical procedure. Embedded in the mesh that opens the middle turbinate is the steroid.
Evidence to date has shown the efficacy and safety of these dual properties of the implants. "The data, which is supported by level 1 evidence, is that the sinus cavity looks significantly better at one month," said Dr. Kern. "So the steroid has a definite effect."