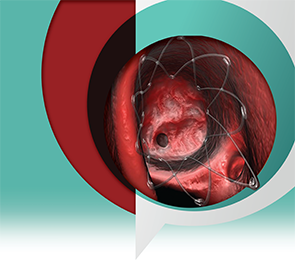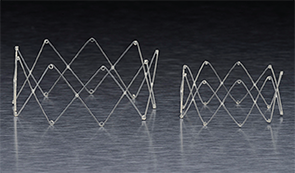 The Propel steroid-eluting stent (left) and the Propel Mini.
In August 2011, the steroid-eluting implant Propel (manufactured by Intersect ENT, Palo Alto, Calif.) received approval by the U.S. Food and Drug Administration (FDA) to maintain sinus patency following ethmoid sinus surgery. It is the first product of its kind to deliver steroids locally to the ethmoid sinus cavity to reduce the need for systemic anti-inflammation medication, potentially reducing the need for post-operative intervention such as surgical adhesion lysis. As such, it is considered a long-needed technology by clinicians who have used it.
"This is really the first step in a new way of treating sinus disease," said David Kennedy, MD, rhinology professor in the department of otorhinolaryngology: head and neck surgery at the Perelman School of Medicine at the University of Pennsylvania in Philadelphia, who's been using the implants for about two years.
According to Dr. Kennedy, who is a consultant with Intersect ENT, devices that can deliver steroids and other medications locally for diseases that are local, such as rhinosinusitis, are clearly needed. "We have very limited choices in the treatment of sinusitis," he said. "There is compelling need for these types of devices that hopefully will one day serve as a scaffold for other drugs that can be delivered locally."
Composed of a biodegradable polymer set in a lattice pattern, the steroid-eluting implant is placed within the ethmoid cavity and expands in a spring-like fashion to conform to the walls of the cavity. The implant contains 370 µg of mometasone furoate that is gradually released over 30 days.
"The device has two properties," explained Robert Kern, MD, chair, department of otolaryngology–head and neck surgery and professor in otolaryngology–head and neck surgery and medicine-allergy-immunology at the Northwestern University Feinberg School of Medicine in Chicago. "It moves the middle turbinate medially, and it elutes a steroid locally right into the surgical bed."
According to Dr. Kern, the elastic properties of the implant help stabilize the middle turbinate so that it doesn't migrate laterally during the healing process. Such migration, he said, can diminish the efficacy of the surgical procedure. Embedded in the mesh that opens the middle turbinate is the steroid.
Evidence to date has shown the efficacy and safety of these dual properties of the implants. "The data, which is supported by level 1 evidence, is that the sinus cavity looks significantly better at one month," said Dr. Kern. "So the steroid has a definite effect."
Although the device has only been commercially available for about two years, Dr. Kern is confident that long-term follow-up studies will continue to demonstrate the efficacy of these implants. "We think that early outcomes correlate with late outcomes," he said. "It is highly suggestive that the short-term data that we have will correlate with the long-term data."
"There is compelling need for these types of devices that hopefully will one day serve as a scaffold for other drugs that can be delivered locally."

—David Kennedy, MD
What the Science Shows
Unlike most medical devices that only receive FDA clearance for use based on evidence of safety, the steroid-eluting implant was approved by the FDA through the more rigorous pre-market approval review process that requires evidence of both safety and efficacy. "This is the first product in my memory for the post-surgical management of chronic rhinosinusitis that has been FDA approved," said Timothy Smith, MD, MPH, FACS, director of the Oregon Sinus Center, chief of rhinology and sinus surgery, and professor in the department of otolaryngology–head and neck surgery at Oregon Health and Science University in Portland. He is also a consultant with Intersect ENT and an ENTtoday editorial board member.
Current evidence shows that the use of the steroid-eluting implants maintains the results of sinus surgery by diminishing the extent of post-operative inflammation, mucosal adhesions, polyposis, and post-operative middle turbinate lateralization, and consequently reduces the need for oral steroids (see "The Research on Steroid-Eluting Implants, below).
Given the sound science behind steroid-eluting implants, the American Rhinologic Society has issued a formal position statement endorsing the use of biomaterials such as drug-eluting implants to improve outcomes and reduce complications of sinonasal surgical procedures.
What Clinicians Say
What these implants help to achieve, said Dr. Kennedy, who has been using the implants both at the end of surgery and in the outpatient clinic, is the critically important goal of getting the sinus cavity back to normal. "All patients with sinusitis who undergo sinus surgery have persistent disease that is usually asymptomatic. So symptoms get better after surgery, but the disease remains," he said. "If you can resolve the persistent cavity disease and get the cavity back to truly normal, we have previously demonstrated that those patients do well and none of them need a surgical procedure over a nearly eight-year follow-up period."
Patients he thinks are the best candidates for the implants are those with nasal polyps, particularly patients with polypoid rhinosinusitis, patients with significant hypertrophic mucosa, patients who don't tolerate oral steroids, and those with recurrent disease who have had prior surgery.
His preferred use, he said, is to place them in the outpatient clinic at the time of the first post-operative cleaning. Unlike in many hospitals and surgery centers that reimburse for these implants, however, getting reimbursement in clinics can be difficult, and for these patients he advocates for reimbursement on a case-by-case basis.
Reimbursement, according to Dr. Kennedy, is the primary limitation to the wider use of these implants because of the ongoing difficulty of getting a separate CPT code to warrant adding the costs of these implants to the already established cost of the procedure. Currently, the implants cost about $600 each.
Dr. Kern, one of the clinicians who works in a setting in which the implants are reimbursed, has placed more than 200 of these devices over the past couple of years. "Rhinosinusitis is primarily a local disease associated with the nose and respiratory tract, so it makes sense to deliver drugs locally to address the problem," he said.
Like Dr. Kennedy, he thinks the implants work best in patients with nasal polyps. He also thinks the implants are well suited for those with an unstable middle turbinate.
In addition to the benefits to individual patients, including the reduction of side effects associated with systemic steroids, Dr. Kern emphasized the benefit to society as a whole. "The No. 1 diagnosis associated with an adult outpatient antibiotic prescription is rhinosinusitis," he said, adding that 11% of all outpatient adult antibiotic prescriptions are associated with either acute or chronic rhinosinusitis. In addition to only modest efficacy and substantial cost, antibiotic overuse is a major contributor to the development of resistant microbial strains. "So there is a really a compelling societal issue," he said. "Rhinosinusitis is such a common problem, and we need other tools in our tool chest to manage the problem."
He hopes that this is the first of a number of products that will provide not only steroids, but also perhaps antibiotics or other drugs locally, depending on the type of sinus problem. "There are devices under development right now that are similar to this implant, and hopefully they can be used one day in the office setting," he said.
The need for these implants in the office setting is highlighted by Michael Sillers, MD, founder and director of the Alabama Nasal and Sinus Center at St. Vincent's Health and Wellness in Birmingham, Ala., who emphasized that most of the procedures to correct symptoms of rhinosinusitis are performed in an outpatient, ambulatory surgery setting like the center in which he works. He has only placed three of these implants so far, however, because of the prohibitive cost.
"A device that can elute steroids at the site where polyps begin to grow, which is typically in the ethmoid sinus, is really an ideal implant," he said. "This is the kind of therapy that we have been looking for as a targeted treatment option."
The Challenge of Reimbursement
Although there has been a strong push to obtain a CPT code for reimbursement for the steroid-eluting implants, efforts have been unsuccessful so far. According to Dr. Smith, this challenge is creating a firestorm within the specialty, with some physicians believing a new code is warranted and others sure that the placement of the implant is already included in the code for sinus surgery itself.
One of the questions being asked is whether placement of the implant requires extra work that could warrant the need for additional cost. "The answer is absolutely, even if it is done in the operating room," said Dr. Kennedy. "To put in one of these implants, you have to get meticulous hemostasis, and you have to position the implants exactly so they are placed against a mucosa so they will work."
Saying that the push for reimbursement needs to come from rhinologists, Dr. Kennedy is confident that it will happen. "I have no doubt that some type of code is going to be given for these implants," he said, adding that he hopes it happens soon.
According to Lisa Earnhardt, president and CEO of Intersect ENT, the company will continue to push for coding to make these implants more widely available. "Ensuring access to Propel for the ENT community and their patients is a top priority," she said, adding that the company intends to bolster their case with additional data and will resubmit the application for a category I CPT code later this year.
---
Mary Beth Nierengarten is a freelance medical writer based in Minnesota.