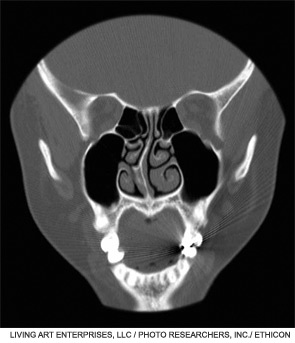 This coronal (frontal) CT of the paranasal sinuses and nasal cavity shows the typical appearance of deviation of the nasal septum. Right: Samples of the PDS plate.
For patients who undergo septoplasty to repair a crooked septum, reconnecting pieces of cartilage and stabilizing the cartilage during the healing process is critical to achieving straight alignment of the nasal septum. Stabilizing cartilage is particularly challenging for patients who require correction of severe septal deviations or severe post-traumatic deformities that are often both functional and cosmetic.
According to Miriam Boenisch, MD, PhD, an otolaryngologist at Medicent Linz in Austria, in these cases, the cartilage needs extra support to maintain stability because the manipulations required to straighten the cartilage during a difficult septoplasty procedure also weaken the mechanical stability of the cartilage. Finding ways to provide the needed support to maintain stability through the healing phase in these more difficult and complex septoplasty procedures is critical to successful outcomes, and implants are needed, Dr. Boenisch said. Although autologous implants using bone from the posterior septum can be used, increased attention is being paid to another relatively new implant that, according to Dr. Boenisch, is more readily available than autologous implants and is easier to affix to cartilage.
Called the PDS flexible plate, the implant is made of polydioxanone, a polymer that degrades by hydrolysis and is completely resorbed by the body. It is the same polymer that has been used in PDS sutures. The implant comes in three sizes, 0.15 mm perforated, and 0.25 and 0.55 non-perforated.
"The PDS flexible plate is easily available, provides support to the operated cartilage and is resorbed by the body and thus excludes the long-term complications of artificial implants," Dr. Boenisch said.
The PDS plate has been used in Europe for many years but is still in its infancy in the U.S., having only received approval from the U.S. Food and Drug Administration (FDA) in December 2010.
European Experience
Dr. Boenisch and colleagues have been using the PDS plate since 1996 and recently reported on their long-term experience in the largest cohort of patients to date in whom the PDS plate has been used (Arch Facial Plast Surg. 2010;12(1):4-10). All 396 patients had severe septal deformities, most caused by trauma, and underwent external septoplasty followed by reconstruction of the nasal septum using the PDS plate. The technique used by Dr. Boenisch required removing the quadrangular cartilage and dividing it into its straight fragments. The trimmed fragments were then fixed to the PDS plate by polydioxanone suture material. Once affixed, the PDS plate supports the nasal dorsum until the cartilage fragments are stabilized by scar tissue.