The efficacy of the study group of 300 patients (only 52 returned with symptoms) was comparable to the results of a meta-analysis by the research group, which, in a review of 49 articles and 1978 patients, revealed that the success rate of multilevel surgery was closer to 66%, Dr. Friedman said. Over the past decade, multilevel surgery has been the standard of surgical treatment.
In addressing the second myth, that surgery precludes CPAP therapy, the researchers found that 96.2% of their patients were able to attain optimum CPAP settings. Preoperatively, the optimal CPAP pressure was a mean of 10.6 cm H2O, whereas six months postoperatively, the mean was 9.8 cm H2O. The difference was of borderline statistical significance (p < 0.05).
As for compliance, postsurgery, the patients actually had improved CPAP compliance. Preoperatively, none of the 52 patients had used CPAP for more than four hours per night, whereas close to half of them used CPAP for at least four hours a night postoperatively.
The perception that surgery precludes the use of CPAP therapy is based on a study in the medical literature that was based on 13 patients who had undergone UPPP, and who were compared to 13 controls. CPAP titrations were performed on patients who were awake and sitting up. Dr. Friedman added that he believes any study on CPAP compliance must be done with the patient asleep.
The results from that study concluded that patients could not reach the maximum of 20 cm of water and that the compliance may also be reduced in these patients. The main critique of that study is that it was focused on maximum pressures and not optimal CPAP pressures, Dr. Soans said in the talk.
Another problem that can occur is air leak at optimal pressure, but in some patients this can be fixed with use of a full face mask. Still, for patients who still need help after surgery for OSAHS, CPAP may be the ticket.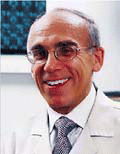 These improvements are important because they represent the group that failed surgery [for OSAHS].
-Michael Friedman, MD
CSF Otorrhea Study
In a second talk on surgical matters, Joe W. Kutz, MD, Assistant Professor of Otolaryngology at the University of Texas Southwestern Medical Center in Dallas, described different ways in which CSF leaks can be repaired.
He pointed out there are several possible causes for CSF leaks. One proposed etiology is aberrant arachnoid granulations. It's been long known that arachnoid granulations can be aberrant along the middle fossa floor. Through years of pulsations, arachnoid granulations can cause a fistula between the subarachnoid space and into the air-containing space of the mastoid or middle, resulting in cerebrospinal fluid otorrhea or rhinorrhea, he said.