Dr. Welling said there was not a clear answer to that. "I want to know the answer to this question myself," he said. "I have to say I don't have a good regime yet. We will try it. Most of the time when we see these folks, they've already been put on oral steroids by either their primary care physician or by another otolaryngologist in the community. So when they come in and they're on oral steroids and they haven't responded, then we'll certainly offer them transtympanic dexamethasone."
Dr. Micco said that, like Dr. Welling, he offers patients both oral steroids and intratympanic therapy. "I think that we do miss patients by just giving them intratympanics," he said. "With that being said,… I offer them both. But I always tell patients we can always salvage and I think, actually, that's the data that we need. Do we have the ability to salvage these patients in a long-term way?"
Dr. Shelton said he would typically use intratympanic therapy as salvage therapy.
"I'm not a real intratympanic enthusiast," he said. "I'm confused by the data in the literature as well. And it's one of these things that many times the patient will drive (the decision)."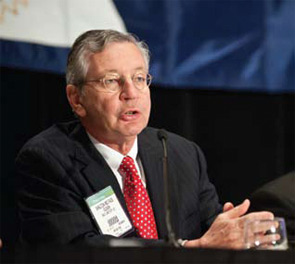 "I'm impressed by the number of Ménière's patients that I have who started off with Ménière's in one ear," Dr. Shelton said.
A Cholesteatoma Case
The second case, a 9-year-old boy, has previously had two pressure equalization tubes placed. He had a canal wall intact tympanomastoidectomy performed elsewhere and then another one performed by you.
He had a well-encapsulated primary acquired cholesteatoma involving the epitympanum and mastoid. You used cartilage to buttress the attic.
Then you went in for a second look procedure and found a narrow retraction pocket superior to the previous cartilage graft.
"I would call this a recurrent cholesteatoma where the same process recurred, a retraction pocket formed, and the sac developed and now you've got a cholesteatoma again," Dr. Shelton said. He said he would reconstruct the scutum using bone pate. "I found bone pate works pretty well on this application."
Dr. Wellling said it was time to take the next step."I think a child that's had two procedures already and comes back a third time with a cholesteatoma probably is ready for a canal wall down mastoid," he said. "And I tend to not obliterate mastoid cavities."