Dr. Shelton said his only hesitation is the age of the patient. "But again, he's a three-time loser; he's got a big effect to the scutum," he said. "Probably a canal wall down is the best way to go."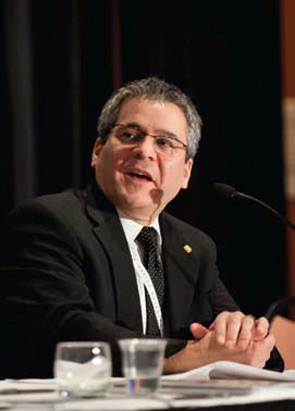 Dr. Micco said it's important to properly explain the goals of the treatment.
Ménière's Disease with Vertigo
In the third case, a 50-year-old woman with a history of classic Ménière's Disease has two episodes of vertigo a month, along with fluctuating aural fullness, tinnitus and hearing trouble that is affecting her job. An MRI is normal.
"If it's the first-time presentation, you always wonder if it's a sudden loss, first of all," Dr. Micco said. "But with this classic history, you have everything, you have the MRI as being normal. I agree that other than the audiogram and an MRI scan, I think once you have that, it's just follow the symptoms."
Dr. Welling said he would take a conservative approach. "I certainly think that non-ablative therapies are better than ablative therapies to start with," he said.
An endolymphatic shunt to relieve pressure is "a reasonable thing to offer," Dr. Welling said. He noted that at Ohio State, they've found that 59 percent of patients end up with no vertigo after a shunt, and 11 percent more end up with significant control.
Dr. Shelton said it was important to be cautious. "I'm impressed by the number of Ménière's patients that I have who started off with Ménière's in one ear," he said. "Later on, many years later, they get it in the second ear, and the second ear ends up being their worst hearing ear. And so if I had knocked off the hearing in the first ear, they may have a real problem with their hearing. And so I try to do something that's going to conserve hearing whenever I can."
Dr. Micco said it was important to properly explain to the patient the goals of the treatment.
"A lot of patients want everything: They want their hearing better and they want the ringing gone," he said. "Especially in these early-on patients when we're first starting to consider something, we have to make it clear that we're mainly helping the vertiginous symptoms. We do get some hearing improvement sometimes with the sac or sometimes with the steroid, but it's not the main purpose."