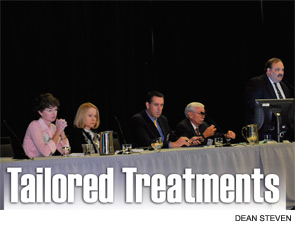 Panelists at the session, "Management Options for Unilateral Vocal Fold Paralysis: Making Sense of It," on Jan. 28. From left to right: Gaelyn Garrett, MD, Gayle Woodson, MD, Clark Rosen, MD, Roger L. Crumley, MD, (moderator) and Randy Paneillo, MD.
SCOTTSDALE—Otolaryngologists treating vocal fold paralysis have many options from which to choose, but the best choice depends on the wants and needs of the patient, a panel of experts said here at the Triological Society's Combined Sections Meeting on Jan. 28.
The panelists discussed the fine points of vocal fold injection, medialization laryngoplasty, reinnervation of the vocal folds and arytenoid adduction. The panelists said that they don't perform one procedure to the exclusion of the others, noting that sometimes a patient can have more than one good option, although certain kinds of situations can lend themselves more to one kind of procedure than another.
Vocal Fold Injection
Clark Rosen, MD, director of the University of Pittsburgh Voice Center in Pa., said vocal fold injection can augment the anterior two-thirds of the vocal fold and can be adjusted according to how much augmentation is wanted.
| | |

Next →

|
Single Page