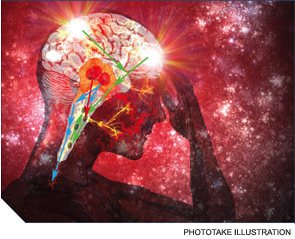 Surgically releasing specific "trigger sites" may provide long-term relief for some sufferers of chronic migraine. According to a recent study published in Plastic and Reconstructive Surgery, 88 percent of patients who underwent surgical deactivation of targeted trigger sites reported at least a 50 percent reduction in the frequency, severity and duration of their migraine headaches five years later (Plast Reconstr Surg. 2011;127(2):603-608).
Twenty-nine percent (20 patients) experienced complete relief, with no migraines reported over the five-year follow-up period. Fifty-nine percent of patients (41 patients) reported a significant decrease in headaches, while twelve percent (eight patients) reported no change.
But is the surgery ready for prime time? At least one otolaryngologist thinks so.
"The surgical treatment of migraines started about fifteen years ago, but some of what we're doing has been around for decades," said David Stepnick, MD, an associate professor of otolaryngology-head and neck surgery at Case Western Reserve University School of Medicine in Cleveland, Ohio.
Septoplasty, for instance, can be used to relieve an intranasal migraine trigger site. Trigger sites in the forehead and temple area are treated with a surgical technique that evolved from an eyebrow lift, "something most of us in the ENT specialty of facial plastics already do," Dr. Stepnick said. He currently uses surgery to release all four known trigger sites; to his knowledge, he is the only otolaryngologist/facial plastic surgeon in the U.S. to do so. (Plastic surgeons perform the bulk of surgical releases for migraine.) But Dr. Stepnick sees opportunity for other otolaryngologists. "We have the skill set to do all of the procedures that are currently out there," he said.
Anatomical Basis
Greenfield Sluder, MD, a clinical professor and director of the department of laryngology and rhinology at Washington University School of Medicine in St. Louis, Mo., linked headaches to nasal anatomy in the early years of the 20th century (JAMA.1919;72(12):885-886).
By the 1980s, otolaryngologists such as Heinz Stammberger, MD, G. Wolf, MD, and David Parsons, MD, had noticed that sinus surgery often relieved patients' headaches (Ann Otol Rhinol Laryngol Suppl. 1988;134:3-23; Laryngoscope. 1998;108:696-702). CT scans of some patients revealed points of contact between the nasal turbinates and the septum; physicians theorized that the contact creates pressure and the release of substance P when the nasal membranes swell, thereby causing headaches. Surgical reduction of the turbinates removed the contact points, alleviating the intensity and frequency of headaches in over 75 percent of patients (Laryngoscope. 1998;108:696-702; Cephalalgia. 2005;25:439-443).