Meanwhile, Bahman Guyuron, MD, clinical professor and chairman of the department of plastic and reconstructive surgery at Case Western Reserve University, noticed that a number of his brow lift patients commented on a reduction in the severity and frequency of their headaches post-surgery (Plast Reconstr Surg. 2000;106(2):429-437). Physicians were also beginning to use botulinum toxin type A (BOTOX) to successfully treat migraine. Dr. Guyuron theorized that migraines might be "related to the nerves being stimulated by the surrounding structures."
Through anatomical study, Dr. Guyuron identified four points where muscles may compress peripheral nerves, triggering a migraine cascade: one in the forehead, one by the temples, one toward the base of the skull and any contact between the nasal turbinates and septum. He reasoned that if the injection of BOTOX in these areas (except the intranasal area) significantly reduced a patient's headaches, surgical decompression of the trigger points might provide longer-lasting relief. In 2005, he demonstrated the efficacy of his idea: 92 percent of those (82 patients) who underwent surgical decompression of their trigger sites reported at least a 50 percent reduction in migraine frequency, duration or intensity (Plast Reconstr Surg. 2005;115(1):1-9). Later papers, including the recently published five-year outcome data, support his initial results (Plast Reconstr Surg. 2008;122(1):115-122; Plast Reconstr Surg. 2009;124(2):461-468).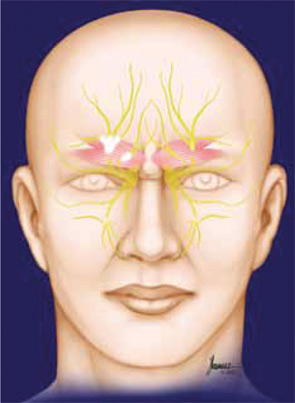 Surgery for migraine headaches in the forehead area involves removal of the frowning muscles, which irritate two nerve branches on each side of the forehead.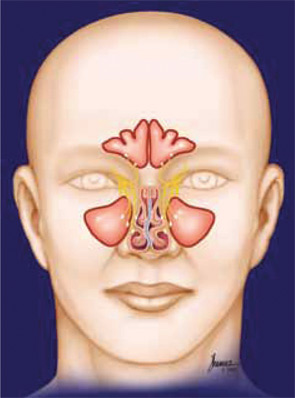 Migraines can also be triggered by contact between the turbinates and the deviated portion of the septum or the irregularities within the septal wall.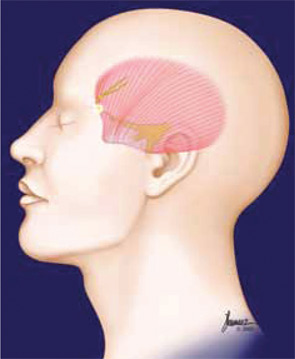 Surgery in the temple trigger site involves removal of a tiny branch of the trigeminal nerve.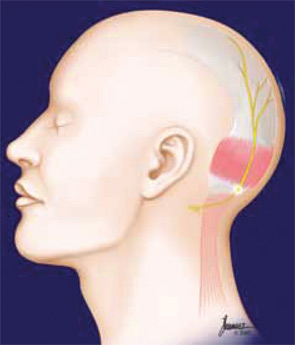 Migraines in the back of the head most commonly involve the greater occipital nerve.
Identifying Appropriate Patients
Confirmation of a migraine diagnosis is essential before even considering surgical treatment. "I would never treat a patient unless they carry an official diagnosis of migraine headaches from a neurologist," said Jeffrey Janis, MD, associate professor of plastic surgery at UT Southwestern Medical Center in Dallas. All patients included in the five-year study were initially examined by neurologists to confirm the diagnosis of migraine according to the guidelines established by the International Headache Society.
Ideal candidates are those who suffer from debilitating migraines that are unresponsive to other treatments or who can't tolerate the side effects of migraine medication. "This is just not somebody who gets a migraine for three hours once in awhile and immediately responds to over-the-counter medication," Dr. Guyuron said. He only operates on patients who suffer migraines—at least two a month—that negatively affect their quality of life. Lawrence Robbins, MD, a neurologist who specializes in the treatment of headaches, believes that surgery "may be a good option" for refractory migraine patients.