LAS VEGAS—An airway clinic jointly staffed by an otolaryngologist and a pulmonologist in Salt Lake City acts as a model for the future care of airway disorders, according to a presentation given at the Annual Meeting of the American Broncho-Esophagological Association (ABEA), part of the Combined Otolaryngology Spring Meetings (COSM) held here April 28-May 2.
The University of Utah Airway Disorders Center has earned a track record of success in treating upper airway disorders and performing surgery in a side-by-side fashion, a much more efficient way to target patients' problems, according to the founders. "The clinical conditions of interest to us often cross medical specialties," said Marshall Smith, MD, associate professor of otolaryngology and head and neck surgery at the University of Utah, who founded the clinic with Mark Elstad, MD, a professor of internal medicine at the University of Utah who specializes in pulmonary medicine. "A key feature of collaborative care in my view is that patients see more than one specialist when they come to the clinic, and the specialists then discuss and coordinate each patient's care," he added.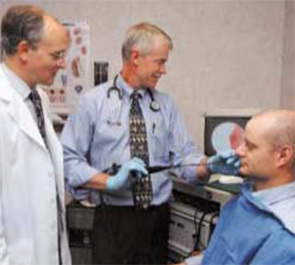 Drs. Smith (right) and Elstad (left) perform a flexible bronchoscopy on a patient who is unsedated
At the airway clinic, there are two half days each month when patients are jointly seen in dual, 30-minute appointments with both the laryngologist and the pulmonologist. Patients are seen in an outpatient ENT clinic in rooms that are equipped for endoscopy. They are examined, the endoscopy exams are recorded, and then the cases are staffed together by both doctors.
Dr. Smith said the clinic's origins can be traced to the early 1990s, when he was working on a particularly difficult case of laryngotracheal papillomatosis with Steven Gray, MD, a prominent member of the ABEA. Dr. Gray recruited Dr. Elstad to help.
In the mid-1990s, Drs. Smith and Elstad cared for a few other patients together.
At about that time, Dr. Smith said, he was struck by the disjointed nature of clinical care. "I would go to the voice disorders clinic, and these airway patients would show up in clinic and the speech pathologist would be standing around waiting for us to get the airway patients taken care of so that they could go back to seeing voice patients," he said. "And I decided that was inefficient. And I talked with Dr. Elstad, and we had enough patients that we thought we could run a separate clinic."