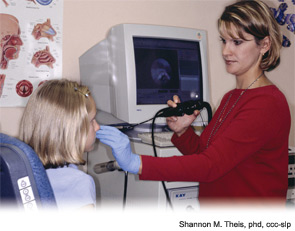 Dr. Theis examines a patient.
Although voice disorders in children are not new, recognition of the need to address and treat these disorders in many children is increasing. Experts say this is fueled by two recent developments: improvements in diagnostic technology tailored to better accommodate the smaller anatomy of children and greater awareness that voice disorders in childhood may have a larger and more long-lasting impact on a child's life than previously recognized.
The increased understanding is also leading to more physicians completing fellowships in both pediatric and adult laryngology. Although the number of otolaryngologists who have completed such double fellowships is small—about 10, according to Albert Merati, MD, professor and chief of the laryngology service at the University of Washington Medical Center in Seattle—Dr. Merati believes these double fellowships are the future.
"Pediatric voice care has been neglected for decades, or at least lost behind truly pressing issues like pediatric airway surgery," Dr. Merati said. "If we knew for sure what the impact of having a disordered voice had on kids, that would help us motivate and educate families. We need the research to show us how to answer the question: Tell me why it matters?"