LAS VEGAS—An airway clinic jointly staffed by an otolaryngologist and a pulmonologist in Salt Lake City acts as a model for the future care of airway disorders, according to a presentation given at the Annual Meeting of the American Broncho-Esophagological Association (ABEA), part of the Combined Otolaryngology Spring Meetings (COSM) held here April 28-May 2.
The University of Utah Airway Disorders Center has earned a track record of success in treating upper airway disorders and performing surgery in a side-by-side fashion, a much more efficient way to target patients' problems, according to the founders. "The clinical conditions of interest to us often cross medical specialties," said Marshall Smith, MD, associate professor of otolaryngology and head and neck surgery at the University of Utah, who founded the clinic with Mark Elstad, MD, a professor of internal medicine at the University of Utah who specializes in pulmonary medicine. "A key feature of collaborative care in my view is that patients see more than one specialist when they come to the clinic, and the specialists then discuss and coordinate each patient's care," he added.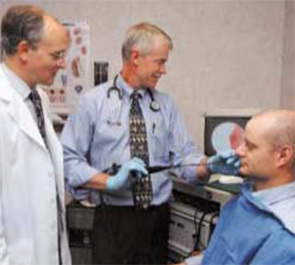 Drs. Smith (right) and Elstad (left) perform a flexible bronchoscopy on a patient who is unsedated
At the airway clinic, there are two half days each month when patients are jointly seen in dual, 30-minute appointments with both the laryngologist and the pulmonologist. Patients are seen in an outpatient ENT clinic in rooms that are equipped for endoscopy. They are examined, the endoscopy exams are recorded, and then the cases are staffed together by both doctors.
Dr. Smith said the clinic's origins can be traced to the early 1990s, when he was working on a particularly difficult case of laryngotracheal papillomatosis with Steven Gray, MD, a prominent member of the ABEA. Dr. Gray recruited Dr. Elstad to help.
In the mid-1990s, Drs. Smith and Elstad cared for a few other patients together.
At about that time, Dr. Smith said, he was struck by the disjointed nature of clinical care. "I would go to the voice disorders clinic, and these airway patients would show up in clinic and the speech pathologist would be standing around waiting for us to get the airway patients taken care of so that they could go back to seeing voice patients," he said. "And I decided that was inefficient. And I talked with Dr. Elstad, and we had enough patients that we thought we could run a separate clinic."
After recognizing that it would be far better to have patients who required more than one specialist to be scheduled at the same time so that both doctors could plan on being there, they opened the airway clinic in 1998 and began seeing patients together routinely. For three years, a gastroenterology fellow worked there, too, making for a full aerodigestive team. The clinic is working on getting another gastroenterologist.
"I knew that I needed help managing the airway," Dr. Elstad added. "The clinic has been excellent, I think, for the patients, first, and for us and for our training."
The most common disorders treated at the clinic are idiopathic subglottic stenosis and post-intubation stenosis. The clinic also sees some adults with problems caused by congenital diseases as well as cases of tracheobronchomalacia, laryngeal paralysis, vocal fold paralysis and fixation and occasionally anastomotic stenosis in lung transplant patients.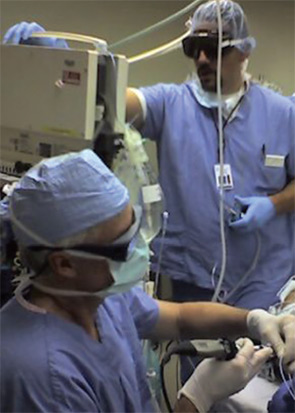 Dr. Elstad performs a Nd:YAG laser resection of a tracheal tumor
Procedures
Many patients come to the clinic complaining of shortness of breath, and it's not always because of an airway lesion, Dr. Smith said. That's where the collaborative nature of the clinic is a plus, he said. "Other causes are important to recognize," Dr. Smith said. "The benefit of having a physician with an internal medicine perspective to help assess these and manage them, in my view, is invaluable."
In 2009, the clinic performed 14 open reconstructive procedures, 75 endoscopic procedures, 10 stent placements, nine intrabronchial valve replacements and 20 diagnostic bronchoscopies with sedation.
For evaluation, the clinic relies heavily on the laryngotracheobronchoscopy procedure, so much so that Dr. Smith called it "the diagnostic procedure that makes [the] airway clinic work." The procedure, which accomplishes the assessment in almost all patients, is performed without sedation. No separate sedated bronchoscopy is needed, and the procedure helps with pre-surgical planning.
Dr. Smith noted that even though it's crucial to know how to perform this procedure, he didn't learn it in residency, but, rather, took a course at the American Academy of Otolaryngology-Head and Neck Surgery meeting at COSM.
Dr. Elstad said that about 60 percent of the bronchoscopies performed at the clinic are for evaluation and diagnosis, while about 40 percent are for treatment. The speed of the procedure is a big advantage. "One of the real benefits of having this clinic is that outpatient flexible bronchoscopies are performed in minutes rather than what essentially takes two hours," he said. "It's very efficient for evaluating the airways."
One of the newer bronchoscopic procedures being used at the clinic is endobronchial ultrasound for diagnosing bronchogenic carcinoma, Dr. Elstad said. "We've essentially eliminated a need for mediastinoscopy," an invasive surgical procedure, for evaluation of the disease, he said.
He also talked about the use of intrabronchial valves for treating emphysema patients. It's been found that if the volume of the lung is reduced by removing the upper lobes, some patients will feel and perform better. But that's an expensive and often morbid procedure.
So a trial is underway, with the airway clinic participating, to assess intrabronchial valves that self-expand and contract, redirecting air to healthier tissue. The trial is looking at patient satisfaction and survival rates, Dr. Elstad said.
Cross-Specialty Collaboration
Dr. Smith said collaborating with doctors in other specialties is as simple as going ahead and doing it. "All I can suggest if you're interested to pursue a type of a model like this is to look around you and find appropriate colleagues to develop expertise in and just start seeing patients together," he said.
Andrew Blitzer, MD, DDS, president of the ABEA, who introduced Drs. Smith and Elstad, said the center is doing things the right way. "We shouldn't be locked into our specialties," he said. "It should serve as a paradigm that we can't be specialty-specific, but we have to be patient-specific."