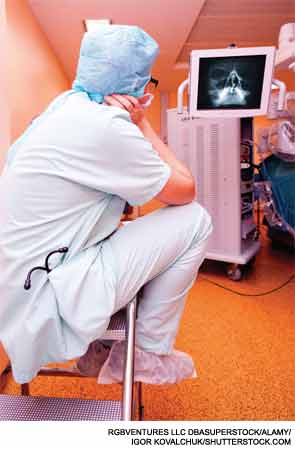 In the 50 years since the first telemedicine (TM) systems were put in place, bringing specialty medicine to underserved rural areas, there has been an evolution from imaging and laboratory results to video teleconferencing and beyond.
"Telemedicine is broadly defined as providing patient services using telecommunication," said Jonathan Linkous, CEO of the American Telemedicine Association in Washington, DC. "Starting in the '60s and '70s, there were demonstration projects of point-to-point video to see a patient remotely. At the same time, there was a push toward digitizing medical imaging, eliminating the need to have the films available."
This led to the adoption of store-and-forward programs in which X-rays and other information could be gathered in one place, stored in digital form in another and accessed by a provider in a third. If you have received an e-mail with a relative's picture attached, you have experienced the family equivalent.
Patient Access
So far, TM programs have been used to provide access to patients in underserved areas and are often the only way these services can be provided. "Telemedicine has flourished most often when there is not an adequate distribution of otolaryngologists for a certain area," said Michael Holtel, MD, who recently retired as a subject matter expert for the U.S. Army's Telemedicine and Advanced Technology Research Center. "Rural practices, or where there is only one physician for a large geographical area, are when TM does best," Dr. Holtel said.
It has also helped physicians and patients make more efficient use of their time. "We used to fly patients in from remote areas to be seen," said John F. Kokesh, MD, medical director of the department of otolaryngology at the Alaska Native Medical Center in Anchorage. "If they needed surgery, we would fly them home until there was an opening. They would then fly back to Anchorage at a large expense to both the system and the patient."
Now, local providers send clinical information ahead of time. A physician reviews the results and decides on a course of treatment. If it can be handled at home, the local provider is contacted with suggestions. If surgery is required, patients only need to travel to Anchorage once.
Telemedicine in Otolaryngology
Otolaryngology may be especially well suited to TM protocols. "A lot of what we do is digitized already, so when sitting next to the patient, we are looking at a video screen," said Moisés A. Arriaga, MD, MBA, FACS, director of otology-neurotology and professor of otolaryngology and neurosurgery at Louisiana State University and director of Our Lady of the Lake Hearing and Balance Center, both in New Orleans. "After information is digitized, it doesn't matter if the physician is in the room or halfway around the world," Dr. Arriaga said.