RIC models sometimes may be more prone to damage from cerumen or moisture than models with both receiver and microphone in the main body, noted Daniel H. Coelho, MD, Assistant Professor of Otolaryngology-Head and Neck Surgery at Virginia Commonwealth University School of Medicine in Richmond. However, RIC devices allow more power or volume to be delivered, and, consequently, more patients with worse hearing can be fitted, he added.
Generally, open-ear hearing aids may provide users with mild to moderate high-frequency hearing loss with high-frequency information that help clarify speech and provide localization cues, explained Dr. Barton.
Wireless Technology
Most high-end hearing aids are also able to communicate with each other via wireless technology, said Dr. Hawkins. If a patient changes the settings on one hearing aid, the other will automatically adjust, he said. If one hearing aid automatically adjusts to sounds coming from the patient's environment, the other will change to coordinate how they both amplify together.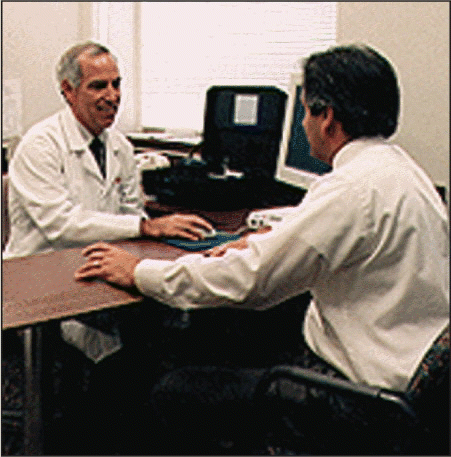 click for large version
Figure. Dr. David B. Hawkins counsels a patient at his hearing clinic as to which hearing aid is best for his needs.
Moreover, most major hearing aid companies are now able to connect their products to Bluetooth technology via a gateway device that is about the size of an iPod and is worn around patients' necks so they can better hear their TVs, computers, and telephones in both ears, said Dr. Hawkins. The Bluetooth receiver is not small enough to package within the hearing aid itself, he added.
Because Bluetooth technology is generally short-range, patients don't have to worry about other wireless devices interfering with sound transmission, said Dr. Coelho.
Advances in Circuitry, Algorithms, and Directional Microphones
Another big change to occur over the last five to seven years has been in hearing aid circuitry design, said Dr. Hawkins. Computer chips can now amplify sounds in several different ways, adapting to how loud a room is and whether speech and/or noise are present, he explained.
For example, most mid- to upper-level hearing aids will automatically amplify sound differently when patients are watching television in a quiet room than when they are dining in a loud restaurant where background noise is a problem, explained Dr. Hawkins.
Automated speech enhancement and noise reduction algorithms complement directional microphones, making it more comfortable to hear through noise, said Dr. Barton. Although not new, directional microphones are steadily improving and helping to increase the signal-to-noise ratio. Hearing aids are able to find multiple points where noise is coming from and then create a null point to help control the problem, she explained.