Open-ear fittings, wireless connectivity, and advances in computer chip circuitry are some of the recent advances in hearing aid technology that can make the devices more user-friendly and improve sound quality.
Numerous models of high-technology hearing aids are available, but the majority of them are similar to one another, said Catherine Palmer, PhD, Associate Professor in the Department of Communication Science and Disorders in the University of Pittsburgh's School of Health and Rehabilitation Sciences and an audiologist at the University of Pittsburgh Medical Center.
There's no one best hearing aid, she said. There's the best hearing aid for a specific person. The choice is individualized.
Audiologists may also decide to work with particular models based not only on their technology levels but also on their repair rates and customer service, added Dr. Palmer.
Open-Ear Hearing Aids
One of the newest and most important changes in hearing aid technology is the development of devices that leave the ear canal open, said Dr. Palmer.
For years, audiologists took an impression of the outer ear and ear canal to custom-fit the hearing aid, but these models blocked low frequencies, sometimes causing occlusion, explained Carolyn Barton, AuD, Manager of the Hearing Aid Dispensary at the North Shore-LIJ Health System in New Hyde Park, NY. Open-ear fittings are small, sleek, and discreet and fit behind the ear (BTE), leaving the ear canal relatively unoccluded, except for a thin wire or tube, she explained.
Some open-ear models rest in the concha and come in many designs that are almost worn like ear jewelry, noted David B. Hawkins, PhD, Professor of Audiology at the Mayo Clinic in Jacksonville, FL.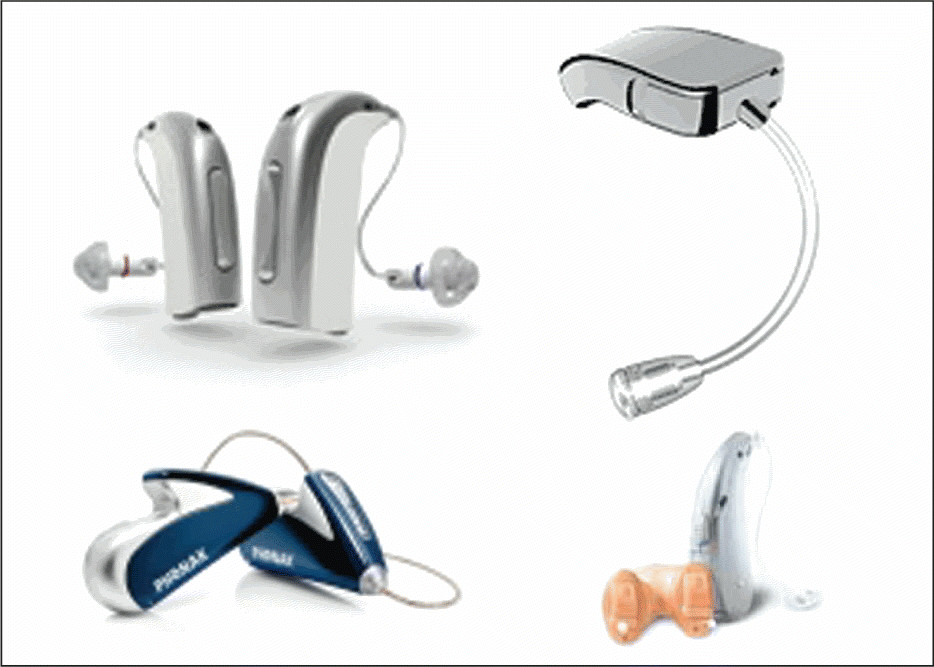 click for large version
Figure. Some of the currently available hearing aids are (clockwise from left) EpoqRITE by Oticon, be by ReSound, Siemens Motion, and Phonak's Audéo YES.
Whether a BTE or concha device, the unit houses the microphone, digital circuitry, amplifier, and battery, explained Dr. Barton. If it also contains the speaker or receiver, sound is delivered to the patient via a thin tube running from the device to the ear canal. Alternately, speakers can sit directly in the ear canal and are connected to the BTE or concha unit via a small wire.
Some audiologists originally thought that having the receiver in the canal (RIC) would create less feedback because it is further away from the microphone, noted Dr. Barton. Additionally, they thought the wires might provide better sound quality because of the resonance of the thin tube. [However,] we are not really seeing much of a difference between the two, she said. They are both premium products that come with a number of advanced technological features, she explained.