Ever since the first fully equipped otolaryngology team was sent to the Air Force Theater Hospital (AFTH) in Balad, Iraq in 2004, an otolaryngologist-head and neck surgeon has become a permanent member of any deployed multispecialty head and neck team, working alongside a neurosurgeon, ophthalmologist and oral and maxillofacial surgeon.
"Otolaryngologists are invaluable because of their specific skills which include acute airway management, upper airway endoscopy, neck trauma and exploration and soft tissue and bony facial trauma," said Maj. Manuel Lopez, MD, chief of facial plastic and reconstructive surgery at Wilford Hall Medical Center in San Antonio.
As with previous military conflicts, Operation Iraqi Freedom (OIF) and Operation Enduring Freedom (OEF) in Afghanistan will probably bring about significant advances in trauma management and reconstruction of combat-related head, face and neck injuries (HFNIs). Some changes in the management of wound closures and infections, as well as the use of neck exploration, have already occurred.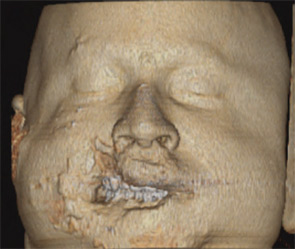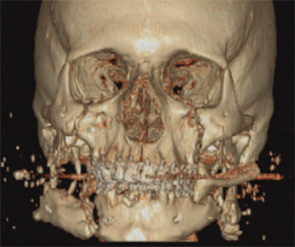 Images showing the extensive injuries experienced by Sgt. Jerald Jensen in Iraq. Figure 1 shows peri-oral soft tissue avulsion and figure 2 shows maxillary fractures, comminuted mandibular ramus/body fractures and bilateral condyle fractures. Drs. Lopez and Hale did nine major surgeries to reconstruct Sgt. Jensen. Despite residual functional problems that are virtually uncorrectable, this soldier went back to Iraq for another tour.
"Certainly the evidence base from caring for these military wounds will enhance civilian care of traumatized patients, including those with head and neck and maxillofacial trauma," said Richard Holt, MD, professor emeritus in the department of Otolaryngology-Head and Neck Surgery at the University of Texas Health Science Center in San Antonio. "For example, new biomaterials are already being investigated on the battlefield for control of hemorrhage and to enhance healing."
In a war zone, clinical research is effectively driven by the great number of patients needing assistance. Since these studies are larger than most civilian studies, they provide more data and information for practicing U.S. otolaryngologists-head and neck surgeons. There are developing data from OIF or OEF regarding facial injury treatment and how that knowledge can be used to treat otolaryngology patients in the civilian world, according to Dr. Holt.
Wound Management
"During the Vietnam War, many traumatic wounds were contaminated and left open with a delayed closure planned for a medical facility outside of the country," Dr. Holt said. "During OIF, in spite of the unusual microbes present, it was possible to deal with wounds more aggressively and perform primary closure, albeit with the utilization of key antibiotics, in theater, as Dr. Lopez reported in his study."