It is Dr. Grundfast's impression that children's primary care providers tend to be very focused in what they expect to receive back in writing from a consultant. On the other hand, oftentimes, they don't seem to feel an obligation to transfer sufficient information to the specialist. It's a little lopsided, he said.
These sorts of problems are typical of what can occur when there is a lack of communication between generalists and specialists of any sort, said William Primack, MD, Professor of Pediatrics and Medicine at the University of North Carolina School of Medicine. He has studied the subject of pediatric generalist-specialist communication, and was coauthor with Christopher Stille, MD, from the University of Massachusetts Medical School, of a couple of studies on the topic that appeared in Pediatrics.
A lack of information can lead to redundancy if tests such as CT scans need to be repeated, and can result in a delayed or missed diagnosis, adverse drug reactions, and overall increased health care costs if the specialist doesn't get the basic background information.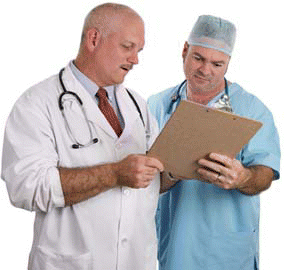 click for large version
Figure. Lack of communication between generalists and specialists could lead to redundancy of testing, delayed or missed diagnoses, adverse drug reactions, and increased overall health care costs.
The problem is not uncommon, with communication barriers abounding between generalist and specialists of all types, Dr. Primack said. Various studies in the medical literature have looked at communication issues, but few have focused on the pediatric population.
Dr. Primack became interested in the subject after working in both generalist pediatrician and specialist (nephrology) capacities while at the Fallon Clinic and University of Massachusetts in Worcester. I realized there was a difference between perception and reality in terms of communication between specialists and generalists. Generalists thought they were communicating well. Specialists in general didn't think primary care people were communicating well, he told ENToday.
One of the studies (published in 2003) consisted of a detailed survey about communication issues. A total of 412 pediatric generalists and specialists in New England responded. Results showed that 60% of generalists reported that there was frequent sending of information about initial referrals, whereas only 28% of specialists reported that they received communication from generalists.
In about 39% of cases, families were relied on for the main communication between providers. The authors noted that although it is important to include families when developing treatment plans, it is potentially hazardous for providers to rely on them as the primary conduit for complex information. The generalist's role as the interpreter of information can be compromised, leaving families confused, and the potential for medical error is introduced.