Contact the Editor ENToday welcomes your feedback about our publication! Contact us using the information below: ENToday@lwwny.com
Although otolaryngologic surgeons commonly focus on the palate when treating patients with obstructive sleep apnea (OSA), they also need to look at the tongue. With the tongue playing a significant role in obstruction in close to 75% of cases, surgeons need to consider OSA a multilevel problem in the airway.
It's not all about the palate, according to Michael Friedman, MD, Professor of Otolaryngology at Rush University Medical Center in Chicago, who is known for developing the Friedman Tongue Position classification system.
The palate is only one part of the airway system. If you treat just that, and ignore the tongue and other parts of the airway, you can cause more problems than you're trying to fix, he said. When evaluating patients, it's vital to look at all three levels of airway: the nasal airway, oropharynx and hypopharnyx.
Uvulopharyngopalatoplasty (UPPP) is still the single most common procedure for OSA, but is an isolated procedure that has poor success rates. It became evident that the reason why we cannot treat everybody with this procedure alone is because there is multilevel obstruction, Dr. Friedman said.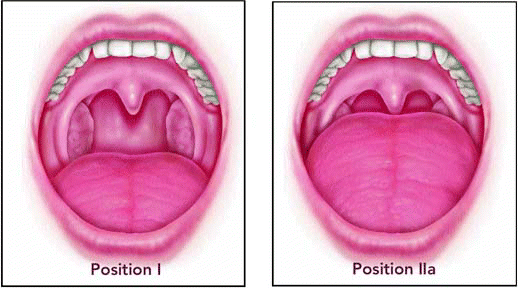 click for large version
Figure. The Friedman Tongue Position, an anatomy-based staging system, is a simple, noninvasive way of gathering information about the structure of the palate and the tongue and where obstruction is occurring.
At the same time, it is difficult to assess the different levels of obstruction. With tools such as sleep endoscopy, sometimes only the predominant obstruction can be seen. I think almost all patients have a combination of obstructions, and one is predominant in some patients, while others are predominant in other patients. Sometimes it's a mix of both sites being significant, he said.
When it comes to surgery, the idea is to treat both the predominant and minor problem areas in the least invasive ways possible.
Surgery is designed to be a fine line in a blend between changing anatomy the minimum amount and correcting as many of the symptoms as possible. We are never completely curing the problem, he said.
Assessing Patients
In studies using the Friedman Tongue Position (FTP) as a guide, Dr. Friedman estimates that about 25% of OSA patients have problems related primarily to the palate and tonsils. The remaining 75% have significant obstruction at the tongue base. But treatments should be based on judgments of how much of a problem each of the three areas in the airway causes.