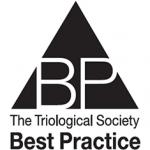 TRIO Best Practice articles are brief, structured reviews designed to provide the busy clinician with a handy outline and reference for day-to-day clinical decision making. The ENTtoday summaries below include the Background and Best Practice sections of the original article. To view the complete Laryngoscope articles free of charge, visit Laryngoscope.
Background
Drains have been ubiquitously used in head and neck procedures to obliterate dead space, approximate skin flaps, and thereby promote wound healing. Whether drains are used depends on factors such as extent of surgery, anticipation of postoperative drainage, and surgeon preference. Closed vacuum suction drains generally are used, and the duration that the drains remain in place largely depends on the amount of drainage, with most surgeons removing drains when the output is < 25 to 30 mL over a 24-hour period without evidence of chyle or bright red blood. The timing of drain removal is important because it often determines the duration of hospitalization. There is, however, little evidence about the optimal timing for the removal of those drains; in fact, most of the literature regarding postoperative drain management relates to complications of head and neck surgery such as chyle fistulae and salivary leaks. In light of this lack of data, this review will present the data that addresses the timing of removal of drains after uncomplicated head and neck surgery and in some other surgical specialties.
Best Practice
There is little objective justification for the current practice of drain management in uncomplicated head and neck surgery, with most surgeons removing drains when the output is <25 to 30 mL over a 24-hour period. The data suggests that it may be safe to remove drains when the drainage rate is ≤ 50 mL over 24 hours. Larger, and ideally prospective randomized, studies will be critical to determine the safety of those cutoffs (Laryngoscope. 2018;128:545–546).