CHICAGO-As this article is being written, the presidential campaign is in the final heat, and all eyes are turning toward the finish line. Although speculation runs high on who will win-and, by the time this article is published, the race will have been won-there is one certainty that is indisputable. Whoever becomes the next President of the United States will inherit a nation facing many critical issues.
Given the high stakes of this presidential race, does the electorate have a right to full disclosure of the medical records of the candidates? Do these rights apply to a sitting president during a time of crisis? What are the obligations of a candidate or sitting president to inform the public of a medical condition that may affect his or her performance in office?
These are some of the questions that naturally came to mind when listening to presentations given recently at a miniseminar on presidential health problems at the American Academy of Otolaryngology-Head and Neck Surgery (AAO-HNS) 2008 annual meeting. Several otolaryngologists-cum-history buffs described otolaryngologic disorders of several past presidents of the United States. If history can inform, then a look at a few of these past ailing presidents and how they were treated can perhaps give us moderns a glimpse into our own times and needs.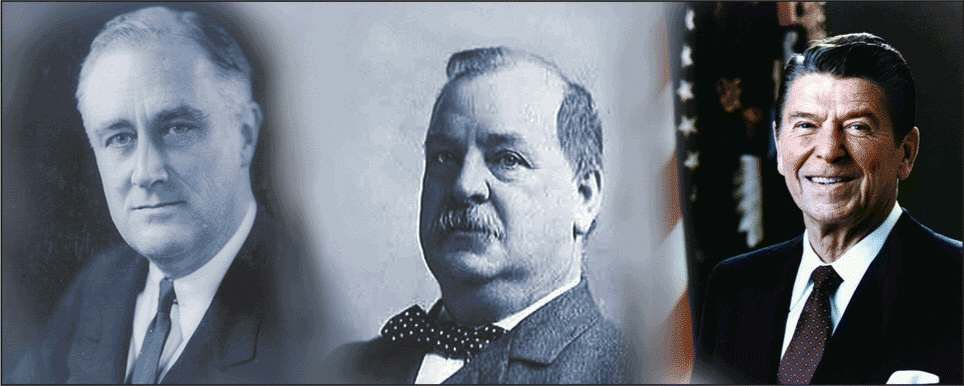 click for large version
Figure. The ways in which previous presidents-such as FDR, Grover Cleveland, and Ronald Reagan-handled illness while in office can provide lessons as to how presidential illnesses should be treated today.
Franklin Delano Roosevelt
With the financial markets bobbling high and low and as pundits brace the populace for difficult economic times, perhaps no other modern day president than FDR represents what the next US president will face when he steps into the Oval Office in January 2009.
Although it is well known that FDR suffered from polio, less known is that he was a life-long sufferer of otolaryngological problems as well, which, according to Robert J. Ruben, MD, were far more bothersome to FDR than his polio.
He [FDR] soldiered through the polio, but the respiratory problems that kept him in bed for days at a time bothered him the most, said Dr. Ruben, Distinguished University Professor of Otorhinolaryngology-Head and Neck Surgery and Professor of Pediatrics at Albert Einstein College of Medicine and Montefiore Medical Center in New York.
My personal opinion is that the leader of the US, just as you and I, should be able to keep certain things private if we are absolutely positive that they don't influence our performance daily or ability to produce whatever we do.
-Lanny G. Close, MD
According to Dr. Ruben, the sinusitis, laryngitis, and bronchitis that plagued FDR were his foremost concern at the onset of his presidency in 1933 and persisted throughout his three terms as president until his death in 1945.