With the advances, surgeons need evidence to ensure that their treatments are the best approach. But Johnson said the state of the evidence is poor.
In 2002, researchers examined the level of evidence in head and neck surgery, asking four leading journals about the quality of the studies published. The embarrassment was that 7 percent were randomized clinical trials, or Level I evidence, Dr. Johnson said. The overwhelming majority were descriptive, retrospective studies. The level of evidence in otolaryngology and head and neck surgery is not so hot.
Surgeons looking for solid evidence on treatment of T1 and T2 glottic cancer-on whether endoscopic resection or radiation is best-might be frustrated. There is quite a bit of evidence suggesting that radiation treatment works very well. But that doesn't resolve the question of whether that approach or surgery is better, Dr. Johnson said, citing the 2008 book Evidence-Based Otolaryngology, by Jennifer Shin, MD, Christopher Hartnick, MD, and Gregory Randolph, MD.
The reality is that for T1 and T2 glottic cancer, there are no randomized clinical trials, Dr. Johnson said. It's not been done. There is limited Level III evidence that suggests comparable survival. And there are no significant differences in voice or QOL [quality of life]. That's the level of evidence today in terms how we should treat early vocal fold cancer.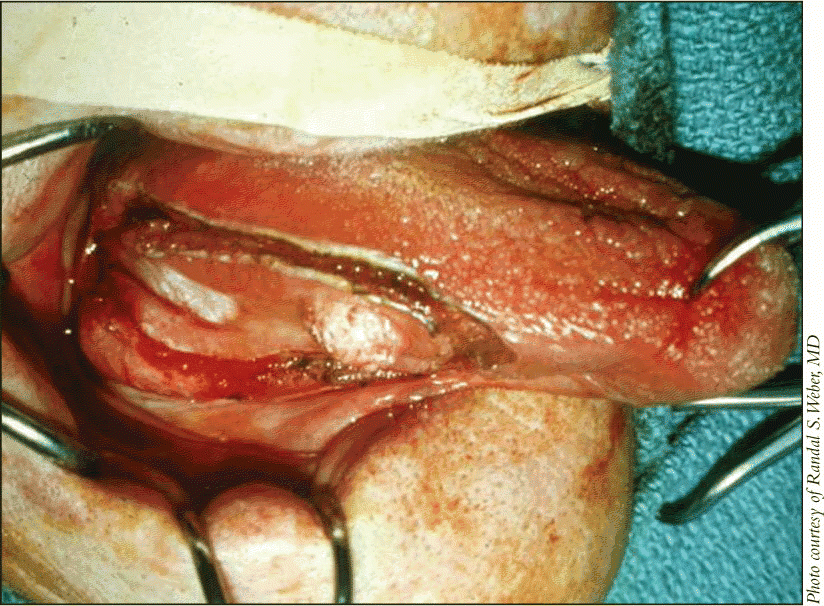 click for large version
Figure. Early tongue cancer procedures have come under scrutiny at M. D. Anderson, where surgeons have established performance measures and reviewed how well they have done. Such reviews should become standard practice throughout head and neck surgery divisions, many surgeons say.
For early oral cancer, the evidence is similarly thin. I would argue that in terms of disease control efficiency, comorbidity, and functional outcomes, the evidence favors surgery, Dr. Johnson said. But the evidence is based almost completely on single-institution retrospective reports.
As for whether selective neck dissection or modified radical neck dissection is best for N0 oral cancer, both Level I and Level III studies have concluded that there is no difference. But, according to Evidence-Based Otolaryngology, the evidence isn't sufficient to notice a 5% difference, Dr. Johnson said.
The evidence is underpowered, he said. And the authors suggest you'd need at least 2000 patients to achieve a significantly powered study to answer the question.
The authors of Evidence-Based Otolaryngology write that the lack of evidence is a multifaceted problem. Although medical and surgical developments have relentlessly advanced this field, the educational and explanatory literature regarding the evidence supporting those advancements has lagged behind, they said. This deficiency is made more pronounced by burgeoning pressure from the academic medical community, third-part financiers, and members of the legal arena.