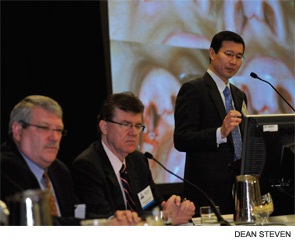 Stephen Park, MD, speaking at the session, "The Nasal Valve and Functional Rhinoplasty," on Jan. 28. W. Russell Ries, MD, and William Shockley, MD, are seated to the left, respectively.
SCOTTSDALE—Problems with the nasal valve that lead to difficulty with breathing can be tricky, in terms of both diagnosis and treatment, said a group of experts here at the Triological Society's Combined Sections Meeting on Jan. 28.
Such cases require care in determining the precise nature and cause of the problem, but with the proper approach, otolaryngologists can deliver great results to patients, the panelists said.
Reviewing All Possibilities
W. Russell Ries, MD, associate professor of otolaryngology at Vanderbilt University in Nashville, said that even though the term "stenosis" is often used to describe this kind of issue, it actually boils down to a problem of function. "When you talk about a stenosis, to me it means some type of lumen that has been narrowed," he said. "And nasal valve compromise is more of a functional compromise."
Talking to the patient is crucial, Dr. Ries said. "The history is most important in treating these patients," he said. "When you talk to the patient, you can almost make the diagnosis."
Both Dr. Ries and Jeffrey Spiegel, MD, chief of facial plastic and reconstructive surgery at Boston University, referred to a consensus statement on nasal valve compromise published last year (Otolaryngol Head Neck Surg. 2010;143(1):48-59). That paper emphasized the fact that nasal valve compromise exists as a distinct clinical entity apart from other causes of nasal obstruction and that it can be caused by a wide columella, collapse, high septal deviation, large turbinates, drooping of the nose tip or caudal septal deviation. The statement also concluded that the Cottle maneuver and anterior rhinoscopy can be helpful in evaluating for nasal valve compromise.
But, while he applauded the paper overall, Dr. Spiegel said he has not found the Cottle maneuver very helpful, because the test can be unspecific, producing positive results in too many patients. Addressing the panel, Roger Crumley, MD, MBA, professor and chairman of otolaryngology-head and neck surgery at the University of California, Irvine, commented that he, like Dr. Spiegel, believed the Cottle Maneuver to be of little value. Similarly, Dr. Spiegel commented that anterior rhinoscopy may not be helpful in diagnosing valve dysfunction, because the simple act of inserting the nasal speculum can distort the anatomy enough to cloud the diagnosis.