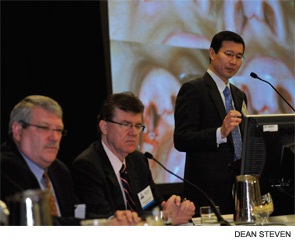 Stephen Park, MD, speaking at the session, "The Nasal Valve and Functional Rhinoplasty," on Jan. 28. W. Russell Ries, MD, and William Shockley, MD, are seated to the left, respectively.
SCOTTSDALE—Problems with the nasal valve that lead to difficulty with breathing can be tricky, in terms of both diagnosis and treatment, said a group of experts here at the Triological Society's Combined Sections Meeting on Jan. 28.
Such cases require care in determining the precise nature and cause of the problem, but with the proper approach, otolaryngologists can deliver great results to patients, the panelists said.
Reviewing All Possibilities
W. Russell Ries, MD, associate professor of otolaryngology at Vanderbilt University in Nashville, said that even though the term "stenosis" is often used to describe this kind of issue, it actually boils down to a problem of function. "When you talk about a stenosis, to me it means some type of lumen that has been narrowed," he said. "And nasal valve compromise is more of a functional compromise."