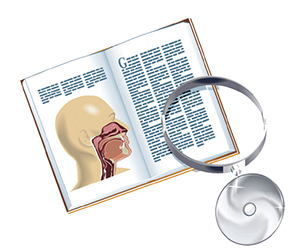 Background
The nasal valve region, bordered by the septum, inferior turbinate, and nasal sidewall, is the most resistive flow-limiting segment of the nasal cavity. As air enters this constricted segment, acceleration of airflow occurs. This results in a drop in intraluminal pressure by the Bernoulli principle. The pressure drop can lead to collapse of the segment of the airway during inspiration, dependent on the rigidity of the structures. The septum and turbinate are typically rigid structures, whereas the nasal sidewall is less rigid and therefore may determine the nasal valve rigidity. Very minor changes to the structures in the nasal valve region can have significant impact on nasal airflow. However, it can be difficult to determine which of the three structures of the nasal valve area is most responsible for nasal airway obstruction in any given patient.
An objective diagnostic test to distinguish between the three possible sources as the cause for nasal airway obstruction has not been defined. Conflicting reports on distinguishing between the three sources exist in the literature, with some advocating anterior rhinoscopy, others suggesting rigid nasal endoscopy, and others additional tests. Multiple surgical techniques to minimize nasal obstruction have been described to differentially affect the three contributing structures. These range from septoplasty, turbinate reduction, and techniques to lateralize the sidewall (spreader grafts, alar batten grafts, or suture techniques). Ideally, an objective preoperative test would be able to determine the cause for nasal valve compromise and therefore guide the patient-specific surgical strategy. For the purpose of this review we consider nasal valve compromise (NVC) as a sidewall rigidity problem and review the methods described to distinguish sidewall incompetence.
Best Practice
Nasal valve compromise is a common source of nasal airway obstruction, with multiple effective methods for correction. Currently, in the absence of a gold standard test to diagnose the specific source of nasal valve compromise, history and physical exam are key measures for distinguishing among septal, turbinate, and sidewall causes. Nasal endoscopy may be useful as an adjunct test to rule out other pathology that could also contribute to nasal airway obstruction with photography being useful for documentation. Future research is needed to define a diagnostic test to measure the nasal valve area and objectively distinguish among the possible sources of compromise. A diagnostic test is not recommended to diagnose the cause of nasal valve compromise based on the existing data to support any diagnostic tests. Read the full article in The Laryngoscope.